Are you truly mastering your PDF documents?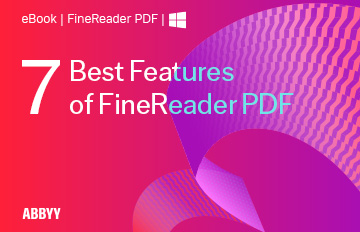 FineReader PDF has so much more to offer than basic document conversion. After 28 years on the market and 100 million installations, we've continually developed and improved the tool with the latest artificial intelligence- based OCR technology at its core, to provide you with an unprecedented level of control over the documents that power your life—in 198 different languages.
Whether you've been enjoying FineReader PDF for years, or you're just discovering this powerful tool to improve the way you work with PDF documents, we invite you to download this eBook to learn about some of the best features that FineReader PDF has to offer, including:
Converting PDFs into editable formats
Securing your PDFs with a digital signature
PDF editing options
And more!
Download your copy today.
Get your copy by filling in the form
Thank you!
Here is your copy of ABBYY e-book:
Read e-book
in pdf, 6.46 MB