ABBYY FineReader PDF 15 for Windows: the smarter PDF solution
Convert, edit, share, and collaborate on PDFs and scans in the digital workplace.
FineReader PDF empowers professionals to maximize efficiency in the digital workplace. Featuring ABBYY's latest AI-based OCR technology, FineReader PDF makes it easier to digitize, retrieve, edit, protect, share, and collaborate on all kinds of documents in the same workflow. Now information workers can focus even more on their expertise and less on administrative tasks.
Webinar coming soon: FineReader PDF as a powerful Adobe® Acrobat® Alternative
Join our webinar to learn about what makes ABBYY FineReader PDF a powerful replacement to Adobe® Acrobat® and the benefits of switching now.
September 9 at 11 a.m. Pacific/ 2 p.m. Eastern time
September 9 at 2 p.m. CEST
Optimize document processes
Digitize, retrieve, edit, protect, share, and collaborate on all kinds of documents in one workflow.
Make the most of PDFs
Edit digital and scanned PDFs with a newfound ease: correct whole sentences and paragraphs or even adjust the layout.
Digitize the document workflow
Incorporate paper documents into a digital workplace with AI-based OCR technology to simplify daily work.
Streamline IT costs
Benefit from one-time payment and progressive volume discounts to maximize the impact across your organization.
Standardize software assets
Deploy one PDF solution throughout your organization to ensure multiple stakeholders can collaborate smoothly.
Simplify license management
Lower IT workload with automated deployment and straightforward license management.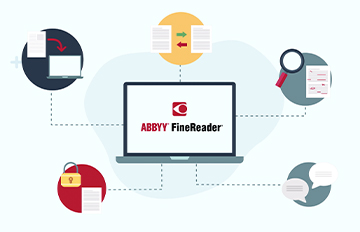 Product overview
A look into ABBYY FineReader PDF 15
Discover how FineReader PDF helps to overcome daily document challenges in the digital workplace – Experience the world of PDF editing and document digitization.
Collaborate on and approve PDFs
Create fillable PDF forms
Compare documents in different formats
Digitize paper documents and scans with OCR
Automate digitization and conversion routines
Edit all of the PDF
With FineReader PDF 15, editing PDFs of any kind, including scanned documents, has become almost as easy as with a text editor. You can edit entire paragraphs, change the text formatting, edit table cells, and even rearrange the whole layout.
Export document comparisons
In addition to exporting the differences between two versions of a document as comments in a PDF, you can now also export the results as a Word document in track-changes mode. This allows you to easily accept or reject the edits and finalize the document (for FineReader PDF 15 Corporate only).
Create fillable PDF forms
Create interactive PDF forms from scratch, or make a PDF fillable, by adding fields, drop-down lists, multiple-choice questions, action buttons, and more. With PDF form creator in FineReader PDF, you can create a fillable PDF to effectively collect information and create standardized document templates!
Make an impact across the organization
New Remote User licenses allow organizations to use FineReader with desktop and application virtualization solutions. New options have been added to customize FineReader PDF settings during deployment using Group Policy Objects.
Volume licensing across the organization
ABBYY FineReader PDF offers flexible, straightforward volume licensing to meet the varied needs of private businesses, public organizations, and educational institutions.
What our customers say
"It works well for grabbing the text off scanned documents"
The best part of ABBYY FineReader is how when you import a scanned document to OCR, you can see it scanning before your eyes. It looks really cool!
"A fantastic document OCR / conversion tool"
Excellent price point, simplicity of use. Extracted text accuracy (e.g. PDF to Word) is excellent - staggering sometimes when you see the input quality. The comparison tool is particularly useful for seeing how someone may have altered a document sent then printed / scanned into PDF.
"There is really no competitor for FineReader 15"
It has an uncanny ability to accurately deconstruct a document and capture the text, non-text elements and the layout. And it does this in multiple languages with equal accuracy. I think the product is unsurpassed.
"Just what I needed for college"
Being able to scan documents and search the text has been invaluable to me as a student. I was able to scan my loose-leaf textbook and use it as an "e-book," searching definitions and such on my computer. Being able to create and edit PDF files, using the screen-shot feature to capture needed graphics and such, has been incredibly useful!
"It makes my job easier"
ABBYY digitalizes documents and images and allows me to save them in different formats, preserving the structure of said documents and images. It's simply amazing.
For individuals
Edit, protect and collaborate on PDFs
Digitize paper documents and scans with OCR
Edit, protect and collaborate on PDFs
Digitize paper documents and scans with OCR
Automate digitization and conversion routines
5,000 pages/month, 2 cores
Compare documents in different formats
For organizations
Volume licensing
Choose between Standard and Corporate editions and a variety of licensing options for a universal PDF tool. Benefit from progressive volume discounts, network deployment and simple license management.
Payments will be processed securely by our eCommerce partners.