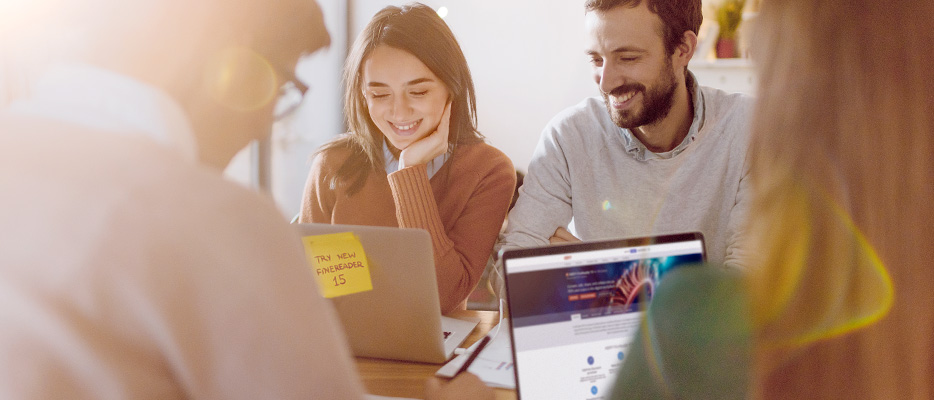 The smarter PDF solution
With the latest version of its universal PDF tool for Windows, ABBYY has packed in a host of enhancements to the PDF functionality, along with smoothly integrated AI-based OCR technology for more sophisticated document conversion and a brand new export option to compare documents.
Over the last two years, the number of opened PDFs has grown exponentially by more than 300% to reach a total of nearly 20 billion documents per year, according to the PDF Association: a clear indicator of the necessity for a modern PDF tool.
While the trend towards a paperless office has been around for decades (and it is certainly gaining momentum), paper documents will not disappear anytime soon. Only 24% of companies have adopted entirely digital process so far (AIIM), and people still spend 25% of their time dealing with paper (IDC).
Often referred to as "paper light," this occurrence shows that a combination of paper and digital documents remains a reality for most information workers and their companies. In order to increase efficiency, digital documents workflows need to be designed to include digitized paper documents as well.
In line with customer feedback, FineReader 15 has evolved into a smarter PDF solution, offering more sophisticated PDF editing tools for the same, convenient manner of working, regardless of document type. Whether dealing with digital PDFs or scanned documents in the digital workplace, FineReader provides a unified approach. And this applies to all of the most common document challenges: difficulties with editing documents; searching and reusing information trapped in PDF documents (especially scans); lack of collaboration options for sharing feedback within a document; keeping up with changes in the latest version of a document; or safely sharing and storing sensitive information.
With FineReader, you can perform your daily document-related tasks within one single application.
Powered by ABBYY'S AI-based OCR technology, FineReader makes it easier to digitize, retrieve, edit, protect, share, and collaborate on all kinds of documents in the modern working world.
A look at what's new:
Edit PDFs almost like in a Word document:including text, formatting, layout, and table cells.
New export option added to compare documents: exporting comparison results into Microsoft® Word with track-changes mode.
Convert documents with higher accuracy: (in particular for Chinese, Japanese, and Korean) improved layout retention and conversion of digital PDFs with a corrupt text layer.
Make an impact across the organization: improved options for virtualization scenarios and roll-out automation.
1. Edit the whole PDF with ease
With new paragraph-level text editing functionality, FineReader 15 brings a newfound ease to editing PDFs of any kind, including scanned documents. You can edit entire paragraphs and the rest of the formatting will be kept intact as the text reflows from one line to the next. The new functionality offers a host of practical applications: adjust the text formatting for the whole paragraph or just parts of the text; edit the content of individual table cells; and even rearrange the position of elements (text, images) within a page for a new look and feel, making it almost as easy as working with a text editor.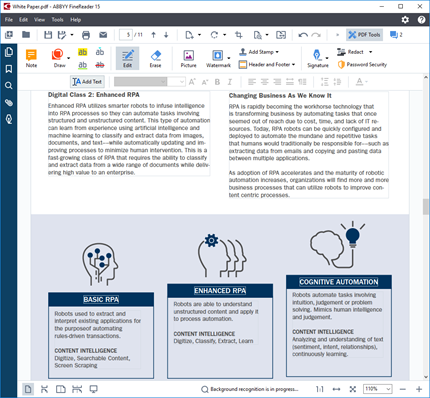 Click on "Edit" and you will see thin lines around the areas you can edit within your document
2. Compare documents and export Word in track-changes mode (available in FineReader Corporate only)
In addition to exporting the differences between two versions of a document as comments in a PDF, FineReader 15 can export the results as a Word document in track-changes mode. This allows you to easily review the changes, accept or reject the edits, and finalize the document, just like in Word.
The newly added option is easily found under the "Save as" function in the menu of the Compare Document interface.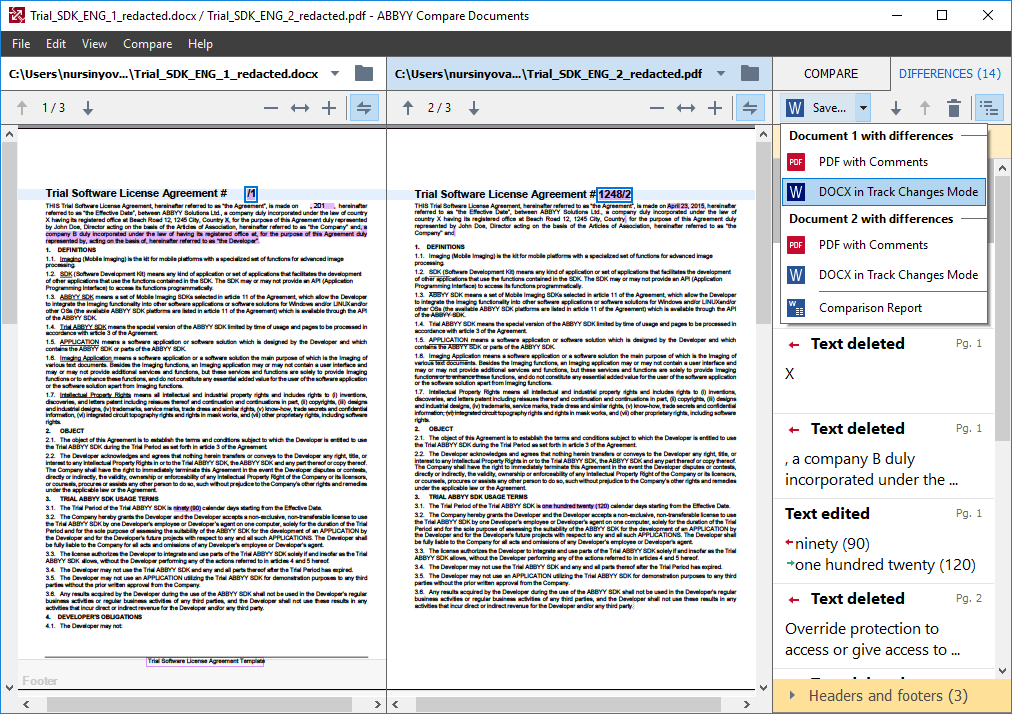 After the document comparison results are ready, you can either directly review the differences in FineReader or export them for sharing with others.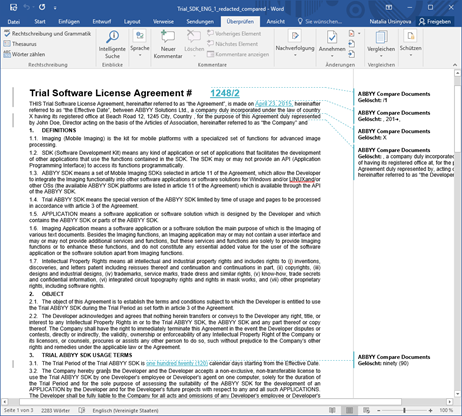 When exporting the document comparison results to a Microsoft Word® document in track-changes mode, you can easily accept or reject them directly in the document.
3. Convert documents with higher accuracy
At first glance a PDF might look perfect to the human eye, but this is often only on the surface - the visual appearance of the PDF. Sometimes when you try to work with such a document unexpected issues can occur.
Some PDFs contain text layers that are corrupted or are coded wrongly. This can make extracting text or converting such PDFs into editable formats complicated or even impossible. FineReader 15 comes with intelligent detection and handling of text layer quality in digital PDFs, which allow FineReader to intuitively pick out areas on which to apply OCR whilst disregarding problematic data. Thus even corrupt PDFs can be accurately converted and become easy to reuse and edit.
Additional improvements to PDF conversion and layout retention translate to a better reconstruction of paragraphs when converting PDFs into editable formats and accurate extraction of text from PDF form fields and annotations.
The improvements in ABBYY`s AI-powered OCR technology also offer further benefits: more accurate reconstruction of document structure during table conversion or extraction, better detection of headers and footers, and the recognition accuracy for Japanese has reached up to 97% whilst Korean and Chinese have now reached 98%.
4. Make an impact across the organization
IT managers at organizations will also appreciate the improvements to FineReader 15. A new Remote User license is now available for companies using desktop and/or application virtualization solutions to provide employees with access to software tools. The license type supports configuration with multiple terminal servers. Licenses can easily be assigned and reassigned, based on the user account and managed flexibly through the License Manager tool.
Central deployment onto user machines can be customized even further with Group Policy objects for FineReader. Options include: limiting the number of processor cores used by FineReader for resource-efficient installations on terminal server environments; forced license release for Concurrent licenses limits the amount of user idle time and make licenses available to other users in the organization.
Visit our volume licensing page to learn more about the licensing options.
Read more about the new ABBYY FineReader 15
Experience FineReader 15 - Download free trial
Ready to boost your document workflow?
Subscribe to our newsletter
Enter email and find out how to unlock efficiency with a free copy of FineReader e-book.
Your subscription was successful!