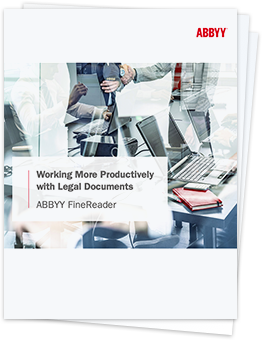 PDF documents are key to helping law firms store, retrieve and share information. But without a single easy way to automate the creation, management and communication of PDFs, firms face high-cost manual labor.
Until now. Because ABBYY FineReader PDF gives legal professionals all the features and ease they need, at a very affordable price.
Read this e-book to learn how ABBYY can help you equip the legal professionals on your staff with a powerful tool to:
Enhance Collaboration with PDFs.
Reduce Risk with Secure and Compliant PDFs.
Track Changes on Critical Documents.
Use One Single Solution to All PDF Challenges.
Download the e-book today to read about real use-case examples and how ABBYY FineReader PDF can be used to improve the daily document processes in your law practice.
Get your copy by filling in the form
Thank you!
Here is your copy of ABBYY e-book:
in pdf, 1.34 MB