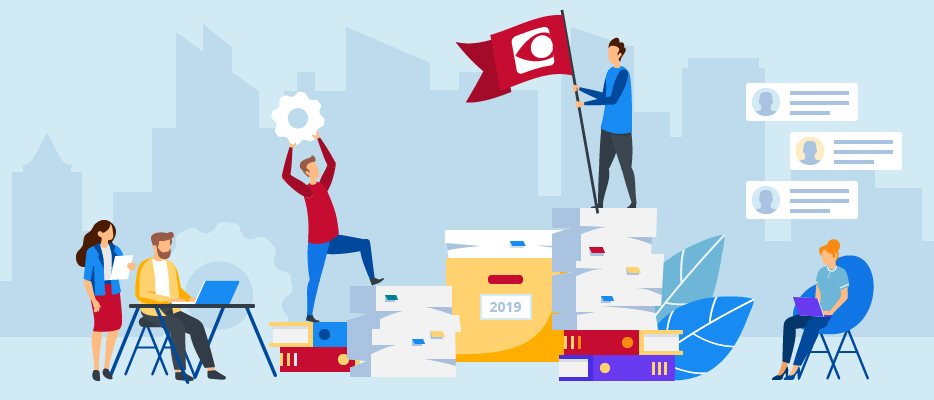 With the year 2019 almost over, it's a perfect time to reflect back on our biggest achievements of the last 12 months. We couldn't have come as far as we have without your support, and we hope that this year has been as successful for you as it has been for us.
Let's recap...
The biggest milestone we achieved this year was launching FineReader 15 (for Windows) in August. We feel privileged to be able to celebrate yet another version launch with you. For those of you who have stayed by our side from the beginning with FineReader 1.0 in 1993, we raise a toast to you!
Some language support figures: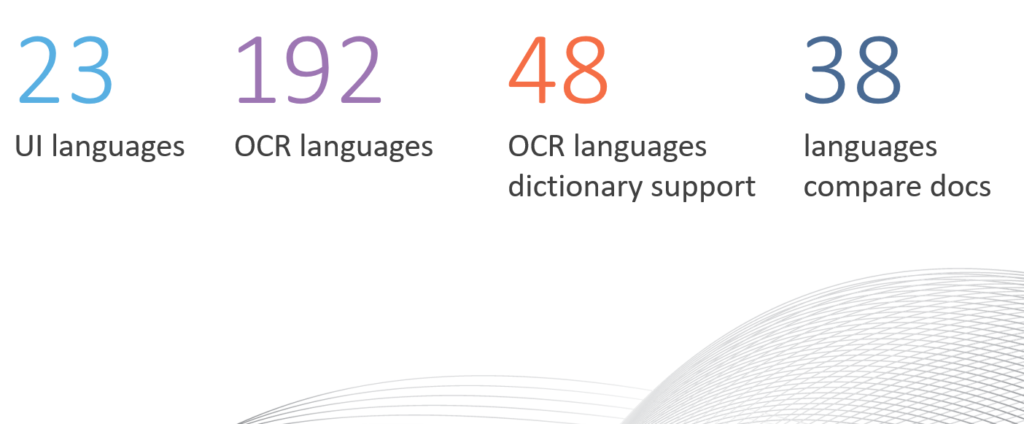 With improvements and added functionality, we launched FineReader 15 in 23 user interfaces and 16 website languages. More details about what was included in this new version was mentioned in an article we wrote accompanying the launch.
The most popular usage scenario among FineReader users this year was conversion (84 percent), followed by opening PDF files for viewing and/or editing (82 percent). By the end of 2019, the number of PDFs opened in FineReader totalled 120 million - a number almost as big as the population of Mexico!
In our latest release – FineReader 15 Release 3, which dropped in November - we added some improvements to the functionality, such as editing of underlined text in digital PDFs. We also increased editing speeds and made further improvements to our OCR accuracy.
Earlier this year, we also gave the FineReader Blog a fresh new look, which we hope you might have noticed yourself. We hope you like the improvements to the blog's usability.  We are working on adding more functionality in 2020 and we have a lot more articles coming up, so stay tuned!
We were also very grateful to receive positive ratings and reviews from you on G2 crowd. We received an average rating of 4.4 out of 5, and we scored particularly well in the "ease of setup" category, with a 9.3 out of 10 rating.
Here a few reviews from our satisfied users:
C David A: "I greatly appreciate the one-time charge, compared to Acrobat DC's $15 per month charge."
Jeremy B : "Excellent price point, simplicity of use. Extracted text accuracy (e.g. PDF to Word) is excellent - staggering sometimes when you see the input quality. The comparison tool is particularly useful for seeing how someone may have altered a document sent then printed / scanned into PDF."
Eli W: "It has an uncanny ability to accurately deconstruct a document and capture the text, non-text elements and the layout. And it does this in multiple languages with equal accuracy. I think the product is unsurpassed."
Liliana A :"ABBYY digitalizes documents and images and allows me to save them in different formats, preserving the structure of said documents and images. It's simply amazing."
Life with PDF's
Lastly, we also introduced a brand- new campaign concept with a short video series centered around "Life with PDFs". Check out our latest one here:
Research shows that more than 2 hours per week are spent on searching for documents (IDC). With FineReader, you can get this time back so that you can spend it on what matters the most - family & friends.
We wish you a happy holiday season, and we'll see you in 2020!
Read more about the latest ABBYY FineReader 15
Ready to boost your document workflow?
Subscribe to our newsletter
Enter email and find out how to unlock efficiency with a free copy of FineReader e-book.
Your subscription was successful!