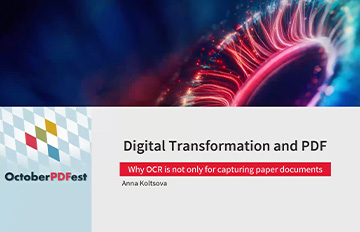 In the modern office there are not only paper documents and digital-born editable PDFs, but a lot of documents which are digitalized - but at the same time not or only partly accessible.
In today's mixed workflows OCR can be of great help – especially ABBYY's renowned OCR and background recognition which lie at the core of FineReader PDF
But OCR is not only for scans – a lot of PDF functionality in FineReader is actually enabled by OCR
In this on-demand webinar, you will learn about FineReader PDF's capabilities featuring ABBYY's AI-based OCR technology and the role OCR plays in achieving effective work with PDFs and facilitating digital transformation.
Register to watch now.
Thank you for your interest in ABBYY and its technologies!
You can download the white paper here:
Download now
in pdf, 3.4 MB