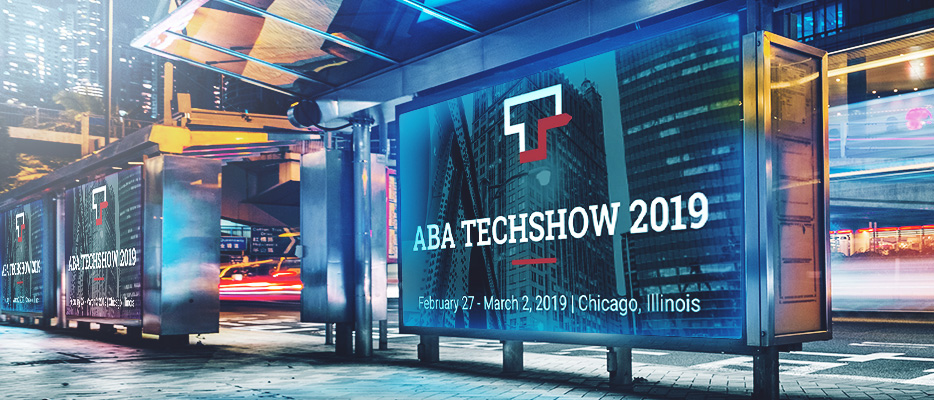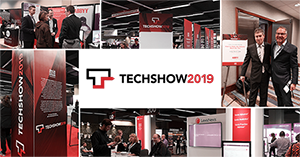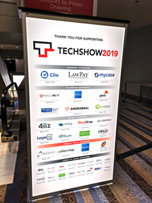 Law firms that embrace technologies stay ahead of the curve was the keynote for this year's ABA TECHSHOW® Conference and EXPO held by the American Bar Association (ABA) Law Practice Division in Chicago, USA, February 27 - March 2, 2019 under the motto "Bringing Lawyers & Technology Together". In eight thematic tracks of the Conference, leading legal practitioners and influencers shared their experience, best practices and vision relating to how technology impacts the future of the legal industry and the nature of legal work. The Conference presentations attracted large number of visitors eager to learn more about using technology in legal practice. At the EXPO grounds over 100 exhibitors presented cutting-edge solutions for digitizing, automating and simplifying virtually any aspect of a law firm's or a solo practitioner's work.
Besides talking to many visitors at the ABBYY booth about our products and how they can be used to simplify the work with documents, normalize and combine paper and digital into one single digital process we also enjoyed some of the numerous sessions.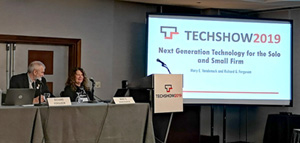 Mary E. Vandenack and Richard Ferguson presented their vision and recommendations on the "Next Generation Technology for the Solo and Small Firm". It is a given that technology already significantly defines the way legal professionals work, helping to navigate through ever increasing amounts of information to process, be more efficient, deliver services faster and better to stay competitive and meet customer expectations. But Vandenack and Ferguson emphasized that now technologies are already capable enough to bring the effectiveness of many legal tasks processing to the next level. They predicted that online services, knowledge management, artificial intelligence (AI), virtual and augmented realities, blockchain will define the law office of the future. Those who embrace such solutions will lead the race, gain reputation and profitability, ensure compliance, mitigate risks and avoid malpractice.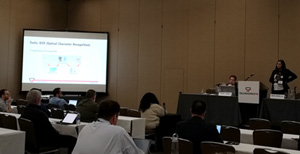 One of the basis and often the main part of law practices is how they can automate highly labor intensive and error prone document-related tasks that impact billable hours. This is the area where modern, AI-based document processing and text analytics solutions are real game changers. In their session "Do Unicorns Exist? The Paperless Law Office" Sofia Lingos, Esq. and Daniel J. Siegel recommended switching to paperless and making popular electronic formats such as PDF the go to formats for all document workflows within a practice from the very beginning. This will open countless possibilities for increasing efficiency and reducing many frustrations of law practice by providing lightning fast access to information, anywhere, liberating lawyers from carrying around binders and boxes of paper, preventing loss of documents, lowering risk of malpractice to name a few.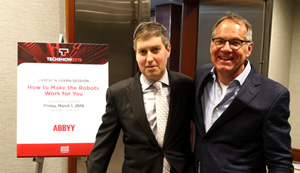 And we at ABBYY recommend that lawyers go further than that – at the ABBYY-sponsored Lunch and Learn session "How to Make the Robots Work for You" ABBYY's Andrew Pery and Michael Simon spoke about the baseless fears of robots taking away lawyer's jobs. By switching to a paperless law practice lawyers may utilize robot-assisted e-discovery, get insights and reveal new knowledge from contracts or other documents, automatically ensure compliance, manage and mitigate risks, and make decisions. Andrew and Mike further spoke about trends and perspectives of Robotic Processing Automation (RPA) in the legal industry and capabilities of ABBYY's modern AI-based text analytics solutions, such as ABBYY Text Analytics for Contracts.
One of the cornerstones of going paperless is Optical Character Recognition (OCR), the technology of conversion of paper documents and scans into digital formats such as PDF and Microsoft® Office. ABBYY FineReader is a worldwide leading OCR solution for both companies and individual users, known for its accuracy and ease of use. It will convert documents to true digital copies in PDF or Word with high precision. We enjoyed the company of our partner ScanSnap® at the EXPO - if you are using a ScanSnap® you probably already know ABBYY FineReader and are using it every day to make your scans searchable.
But ABBYY FineReader 14 is not just OCR: it is now a full-fledged PDF solution too. With it, you will not need a separate dedicated PDF solution to edit, redact, protect, comment and compare your digital documents (PDFs and document images). Try all PDF, OCR and document comparison capabilities of FineReader 14 yourself and see the difference with the PDF solution you are currently using.
For high-volume, unattended document conversion tasks, such as digitizing the whole archive of a law firm, or centralized conversion of large volumes of incoming documents ABBYY FineReader Server provides a robust, highly productive and easily scalable server-based architecture, automation and integration capabilities.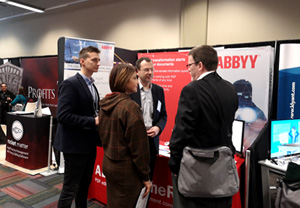 This year ABBYY participated in the ABA TECHSHOW for the second time in a row. At our EXPO booth, visitors learned about features and capabilities of ABBYY FineReader 14, ABBYY FineReader Server and ABBYY Text Analytics for Contracts for the legal industry. We are truly thankful to all the visitors, and look forward to meeting at the venue next year again and hearing how our products took you one step closer to digital!
Ready to boost your document workflow?
Subscribe to our newsletter
Enter email and find out how to unlock efficiency with a free copy of FineReader e-book.
Your subscription was successful!