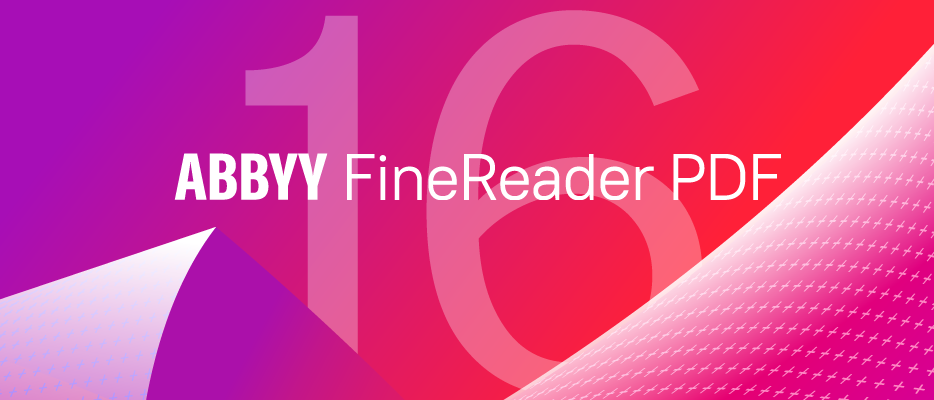 The global PDF software market continues to grow at a rapid pace, from about 2.2 billion USD in 2021 to 3.5 billion USD expected by 2026 i. PDF mindshare is constantly growing—and PDF has even overtaken popular items such as iPhone in Google trends in 2022 i. These trends have accelerated in the recent, turbulent, Covid-impacted years leading to quicker adoption of the best PDF tools and other technologies for speed and agility, jump-starting many organizations' journey for digital transformation.
Those organizations that adapted quickly became a part of what McKinsey calls the "next normal". This term describes a "post-pandemic generation of companies with a digital-first mindset that is more agile and flexible in facing disruptions" ii and have come out on top, while other companies face increasing challenges and continue to struggle with their old-fashioned processes that still rely heavily on paper documents. According to recent research iii, over half (56 percent) of workers are still printing, and 50 percent are scanning, even while working from home.
"A little over 80% of workers say the way their company manages documents has not improved significantly during the pandemic."
Employees heavily depend on productivity tools to manage their daily document tasks in a digital form from remote (flexible) locations, especially in small and medium-sized businesses. As many physical offices close, creating a digital workplace is becoming more and more important—and empowering employees with the right tools to drive efficiency is critical.
Get more resilient with the new FineReader PDF
ABBYY FineReader PDF 16 for Windows is the perfect PDF tool to aid companies in this "next normal" stage, providing a fast and efficient way to work with both PDF and paper-based documents. FineReader PDF is perfectly suitable for organizations across different environments. Various deployment options allow flexibility to suit the IT software system demands of any organization.
"PDF it" replaces "Print it" for considerable cost savings
The financial benefit of using FineReader PDF to reduce waste is enormous. 
"It is estimated that 45% of printed paper in an office ends up in the bin and that businesses spend over $120 billion a year printing forms that are rendered redundant in less than three months."
Helping to eliminate waste (paper documents) also benefits the greater good as our paper-making footprint is larger than many realize. Did you know that every sheet of paper produced requires 20 liters of waterv to make? Digital transformation plays its part for a more sustainable future.
Building a more productive workforce
Using FineReader PDF 16, daily tasks can be performed much quicker. Automating repetitive document processes helps build a smarter and more efficient workforce by eliminating non-value adding steps company-wide. The benefits of equipping every employee with a universal PDF tool spans across all industries from public organizations, legal institutions, banking, healthcare, etc.
New features and improvements for a smoother FineReader PDF experience
Meet the next generation of FineReader PDF! In version 16, our globally appreciated PDF tool gets a new look and various improvements, while remaining the familiar tool our customers know and love.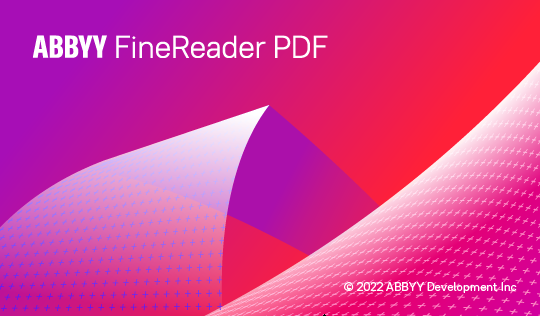 New user interface: New icons, modern graphics, and reorganized PDF Editor interface provide you with a smoother and more intuitive user experience.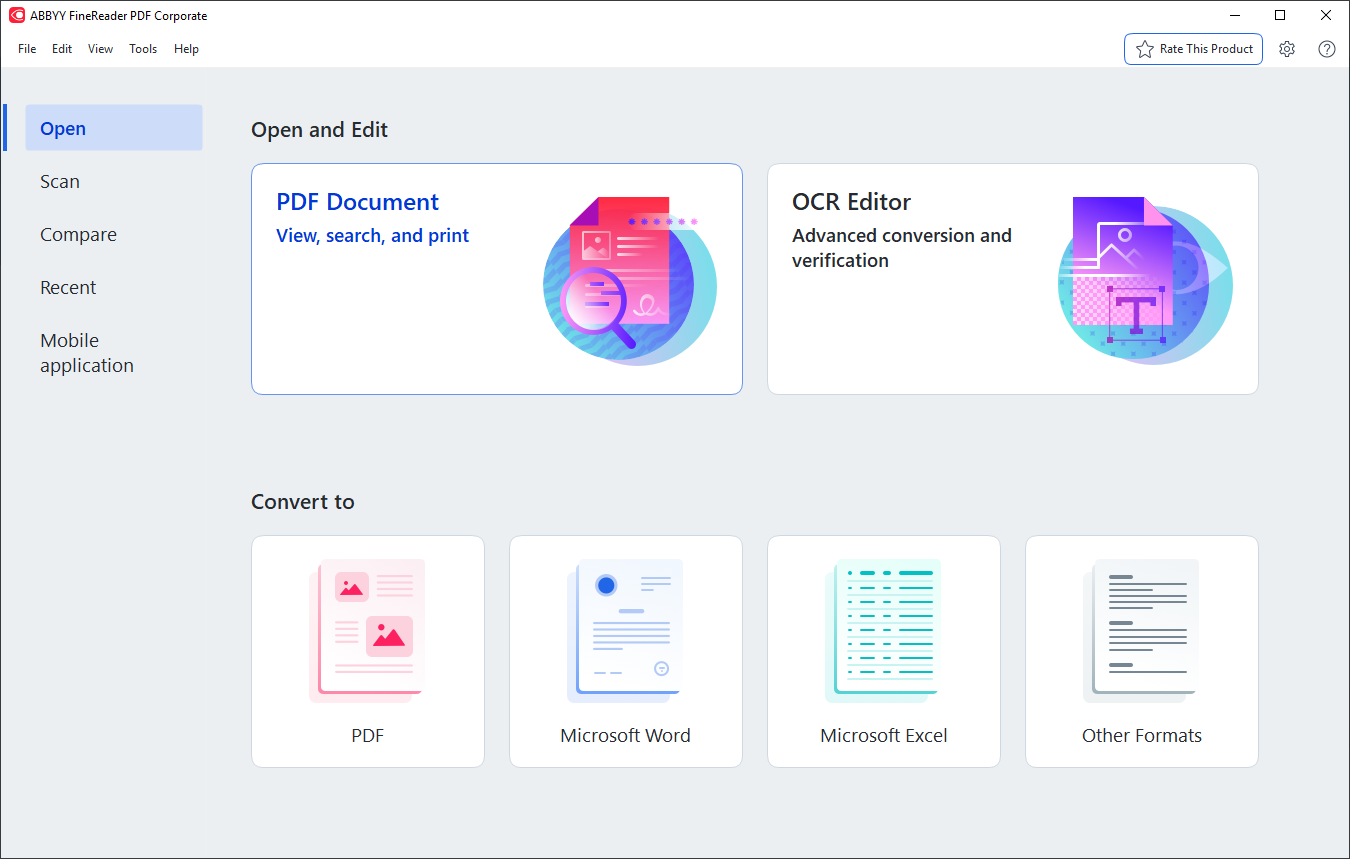 New Organize Pages feature: Easily overview a document and manage all page-level operations in one place. The Crop tool now also includes an added preview mode.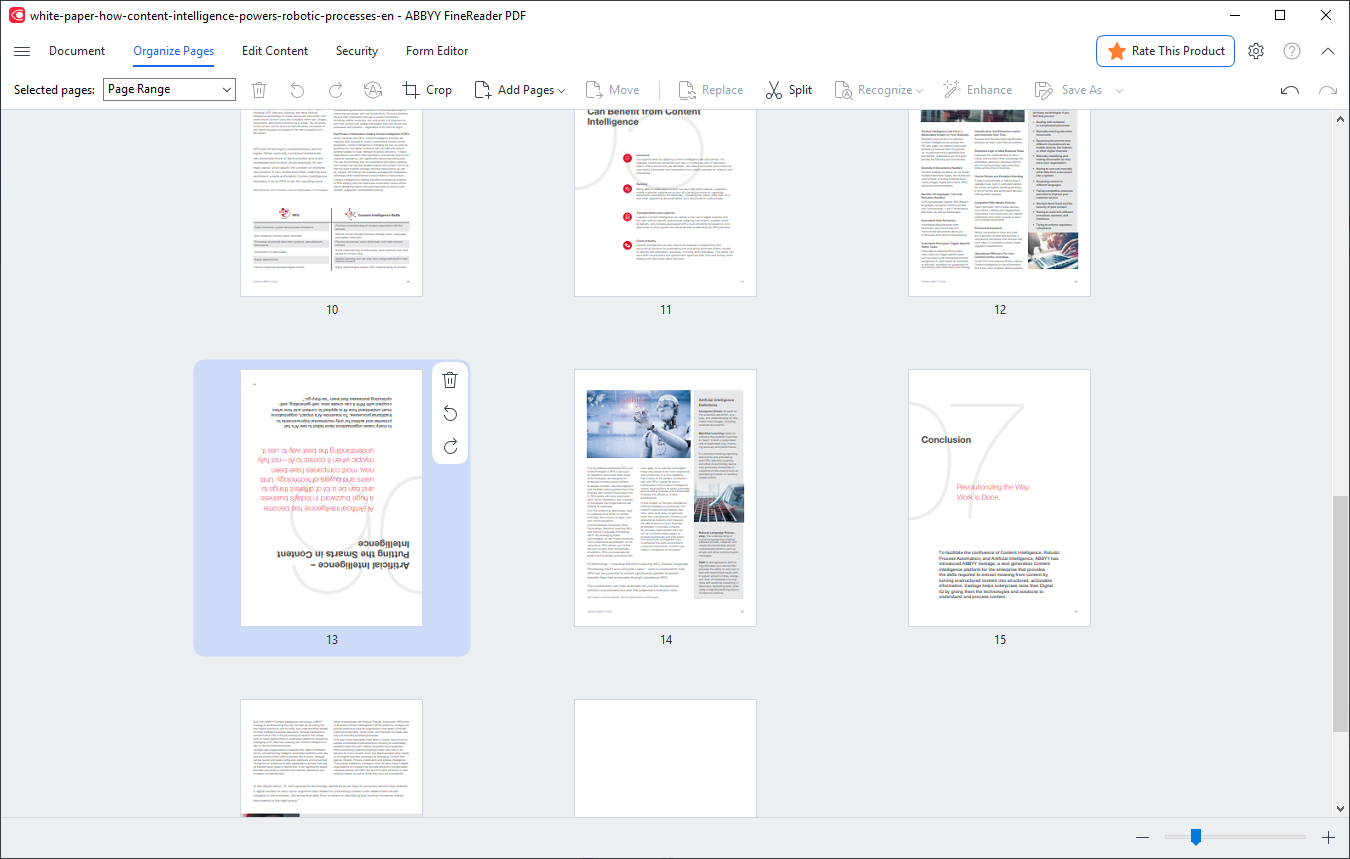 Improved productivity: Start working with PDF documents faster than ever. Open PDFs 32 percent faster and start editing or searching through them 2x faster.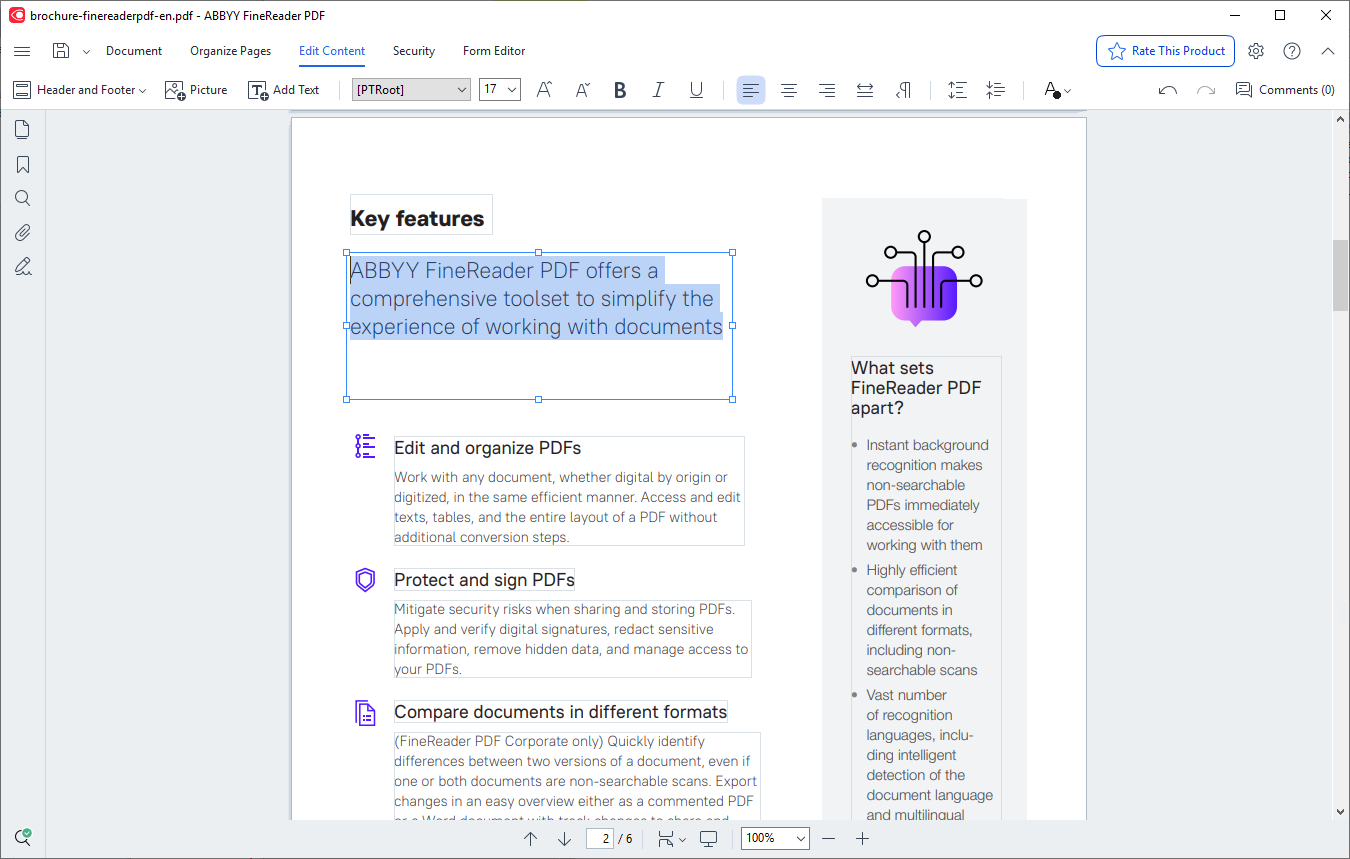 Improved OCR core of the latest generation: More accurate document conversion with fewer mistakes and new automatic image preprocessing with document classification applies the most suitable combination of settings for better conversion results.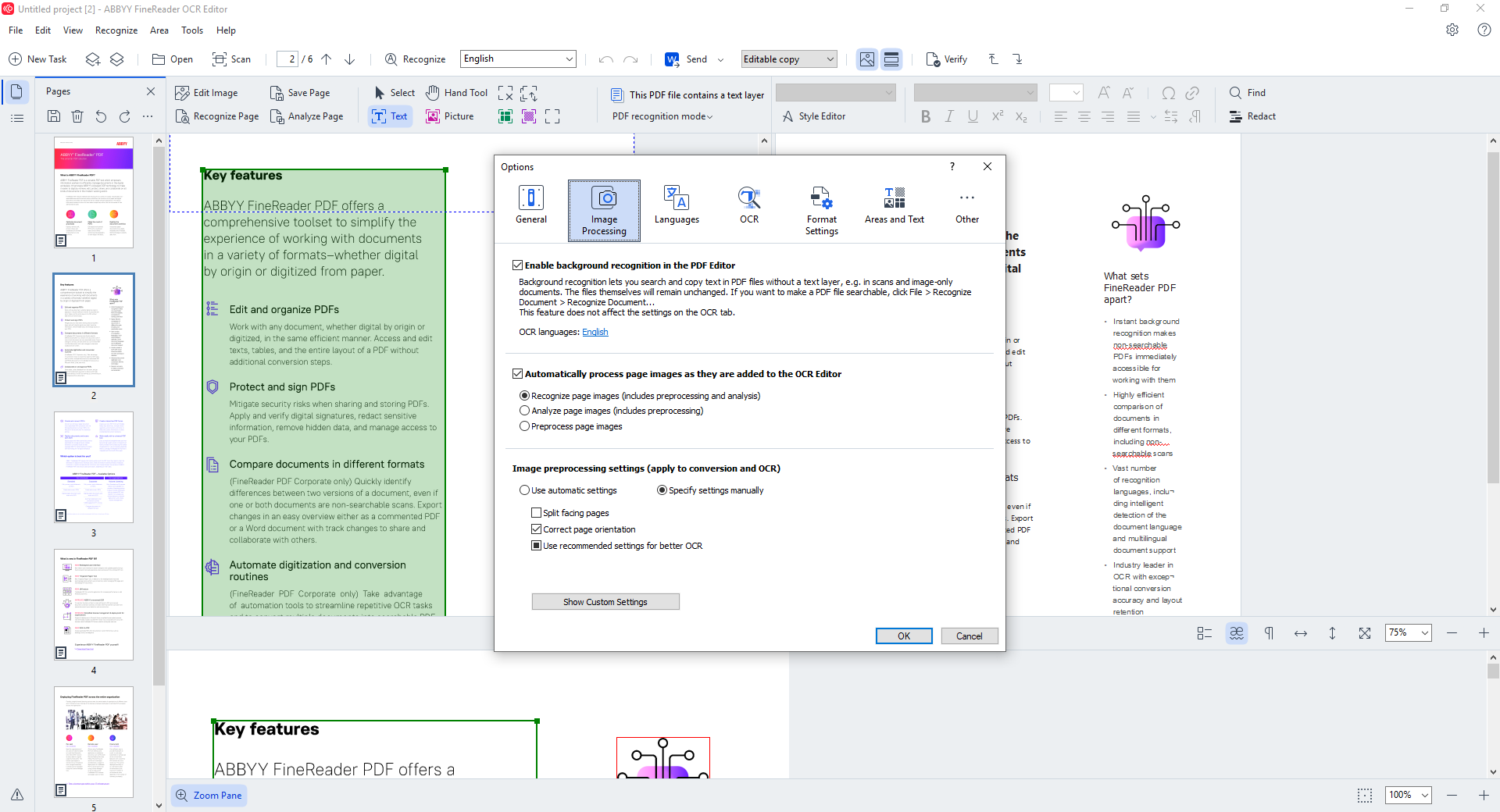 Simplified license management and improved deployment for organizations: Expanded deployment capabilities with support of Microsoft Azure, plus added scenario of using PDF Viewer together with Concurrent License for access to an advanced FineReader PDF functionality for temporary use, as requested.
Accessibility use case
The fundamental benefit of using FineReader PDF 16 for accessibility is the exceptional optical character recognition (OCR) quality, particularly when converting textbooks and study materials (physical paper or scanned) to digitally accessible documents, enabling students with dyslexia or visual impairments to get equal access to educational materials, regardless of their original format. Additionally, this PDF tool has many keyboard shortcuts to perform various operations, aiding in ease-of-use for all students.
Teachers can also prepare universally accessible study materials using PDF/UA format, which supports access via text-to-speech, magnification software, and for other assistive technologies.
ABBYY FineReader PDF 16 is the solution for your everyday work with PDF documents, made even better. Try the latest version of FineReader PDF today.
---
Sources:
i 360iResearch, PDF Editor Software Market Research Report, July 2022
ii McKinsey, "The next normal arrives: Trends that will define 2021-and beyond" by Kevin Sneader and Shubham Singhai, 2021
iii Plan2Scan.co.uk, Why there has never been a better time to go paperless by Andy Powel, 2022
iv Intelligent SME Tech, "Why the paperless office is more important than ever before" by Rebecca Miles, June 17 2021
v Yahoo! Finance, "How Digital Transformation Reduces Environmental Impact" by Gys Kappers, May 5 2022
Ready to boost your document workflow?
Subscribe to our newsletter
Enter email and find out how to unlock efficiency with a free copy of FineReader e-book.
Your subscription was successful!