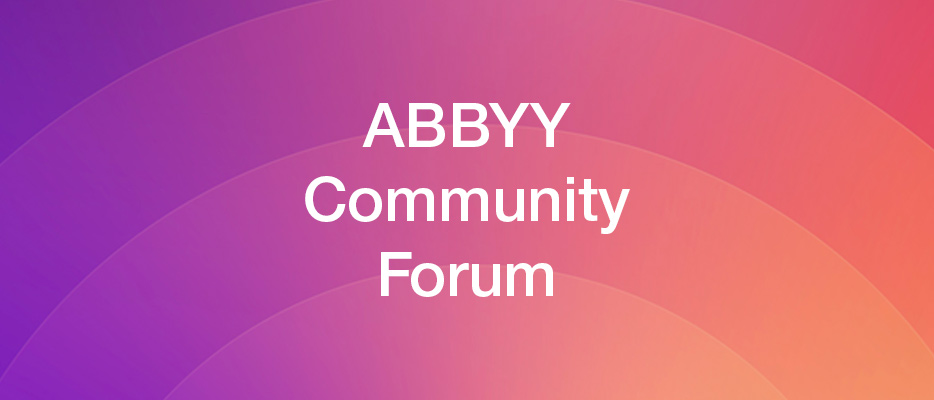 A few months ago we launched the ABBYY Global Products Community Forum.
ABBYY offers a wide portfolio of products to help individuals and organizations achieve digital transformation. The forum is available to everyone—customers, partners, and prospects alike, to ask and answer questions relating to ABBYY products. We aspire to create and foster a community where people can share their acquired expertise and help support one another to overcome common, mutual challenges.
In the Forum, you can explore the FineReader PDF community by simply selecting FineReader PDF from the list of products available where you can then browse around the posted questions, post your own questions, and explore the different categories.
Each product has a dedicated section consisting of four categories:
1. Q&A
An area dedicated to questions about FineReader PDF for Win and FineReader Pro for Mac. Wondering about making use of FineReader PDF for your task or want to get some advice about the product functions - ask for the expertise of the community here!
2. Product Feedback
Feel free to leave your feedback here – your wishes, opinions, suggestions about FineReader PDF. The product team will listen to them carefully.
3. Tips and Tricks
Found an interesting insight into how to work with FineReader PDF? Share it with the other users here! If you are looking to learn more about useful FineReader PDF tips, interesting use cases, or even useful workarounds – you'll find them there too, both from the other users and the ABBYY experts.
4. Discussion & Highlights
This is discussion and information exchange grounds. In this section, we will share latest product news, invitation to surveys and beta tests. If you have a discussion point about FineReader PDF, feel free to raise it here. You can add feature requests for future FineReader updates in this section too.
We are continuously working to improve FineReader PDF. The Community is a platform to raise questions and find answers, have discussions, and share expertise – and everyone is invited and welcomed there! Visit and follow our FineReader PDF community posts at https://support.abbyy.com/hc/en-us/community/topics
Ready to boost your document workflow?
Subscribe to our newsletter
Enter email and find out how to unlock efficiency with a free copy of FineReader e-book.
Your subscription was successful!