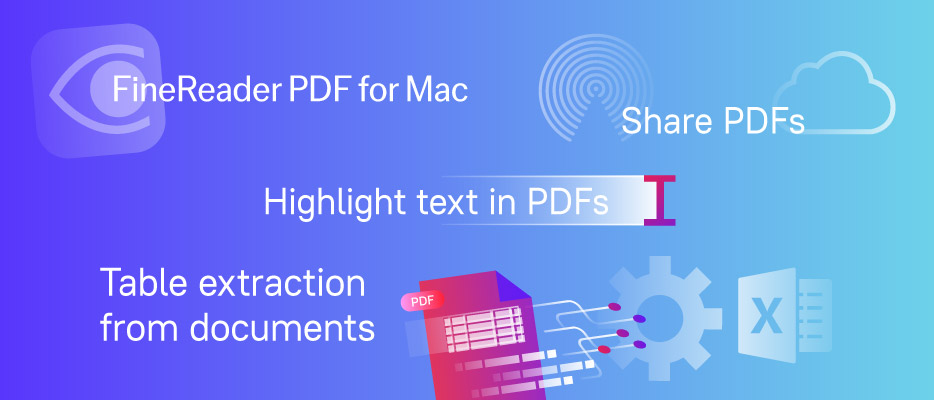 While the primary function of ABBYY FineReader PDF for Mac is to convert PDFs, document images, and scans, and unlock the content within them into editable formats, ABBYY continues to enrich the software with functions that facilitate non-conversion document-related tasks, too. 
There have been a few updates since last July and the most recent one, Release 5, is now available, as of the beginning of February 2023. These updates bring several new features facilitating easier content extraction from PDF and scanned documents, giving you more flexibility to work with and share PDFs.
Need to highlight some text in a document? We've got you covered. What if there is a table? FineReader PDF for Mac can extract it keeping the whole structure. Manage files easily and send your PDF documents onward with the new Sharing feature, and more. Keep reading to get all the details on the latest update of FineReader PDF for Mac.
Tables and text extraction
When you only need to use some parts of a document, like a text paragraph or a table, recognizing and converting the whole document may not be reasonable, timewise. Available starting from the Release 3 update and further improved in this latest Release 5, we've addressed this scenario with a new and improved feature for extracting tables and texts from a document.
Now, you can simply draw a frame around a table or piece of text, and then click "Copy" from the context menu. When copying, FineReader PDF keeps the whole structure and formatting of the piece—not only the text, but also its formatting, table cells, lines, columns, and separators. Once you paste the piece to another application, it's ready and doesn't need further manual reformatting or restoring of the structure. A table in a PDF or a scanned document becomes an editable table in Numbers or Excel immediately, without any extra efforts from your side.
PDF Viewer
In Release 5, the PDF Viewer of FineReader PDF for Mac has a few new tools to help you work with PDF documents more effectively.
Highlight tool
Firstly, Highlight markup is now supported in the PDF Viewer. You can see the markups made in the document by other users, and add your own highlights. You can select and delete highlights, and when you do so, FineReader PDF saves the changes to the document automatically. You can undo the changes you've made, if needed, and you can rename the document and edit its tags, too.
Currently, the Highlight tool only supports the default color, and there's no possibility to work with text comments to the markups. We plan on expanding the Highlight tool's capabilities in future releases of the software.
Share documents
Secondly, available starting from Release 5, is Sharing. By clicking on the "Share" icon on the right, you can send the PDF document that you're working with to iCloud, by email, via AirDrop, or using any other method of sharing available in your system—you can select them from the drop-down menu of the tool.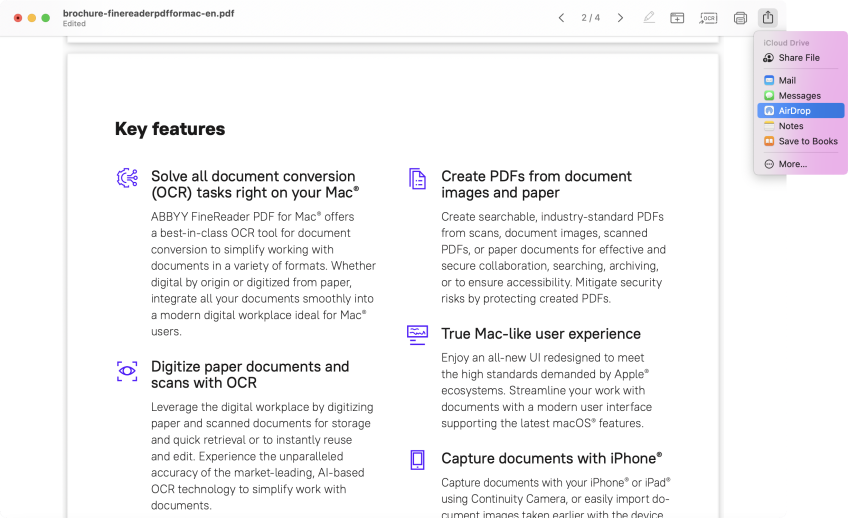 Other improvements
In Release 4, Dutch and Portuguese (Brazilian) were added as user interface languages. In addition, internal improvements made the operation of the software better and its further development more effective. Management of temporary files was optimized to prevent them from piling up in your system. And operation log collection was improved, enabling our ABBYY Support Team to provide you with better support services, and enables developers to be more efficient in fixing bugs.
With Release 5, we've also updated the End User License Agreement (EULA). Now, all general terms that are the same across ABBYY products, are provided in the main text of the EULA, while all the conditions specific to FineReader PDF for Mac are collected in Appendix 1. In the Appendix 1 section, a couple of clauses required by Apple have also been added.
Try FineReader PDF for Mac now!
Click on the "Try for free" button on the top of the page. From here, you can download a fully functional 7-day trial for an individual user, or you can request an extended trial for your organization.
How to learn what is new in every FineReader PDF release
Follow our blog—subscribe by filling out the form on the right (or below if you're reading this from your mobile device). Also, at any time you can consult the FineReader PDF for Mac Release Notes, where the full list of improvements and major bug fixes for every release are documented. To identify the release version you have, use the part #, which you can find in the product by going to the "ABBYY FineReader PDF" → "About FineReader" menu.
Remember to update your FineReader PDF for Mac to the latest Release: click "ABBYY FineReader PDF" → "Check for Updates" in the main menu and follow the instructions on the webpage that opens.
Stay tuned for more news and interesting articles!
Ready to boost your document workflow?
Subscribe to our newsletter
Enter email and find out how to unlock efficiency with a free copy of FineReader e-book.
Your subscription was successful!