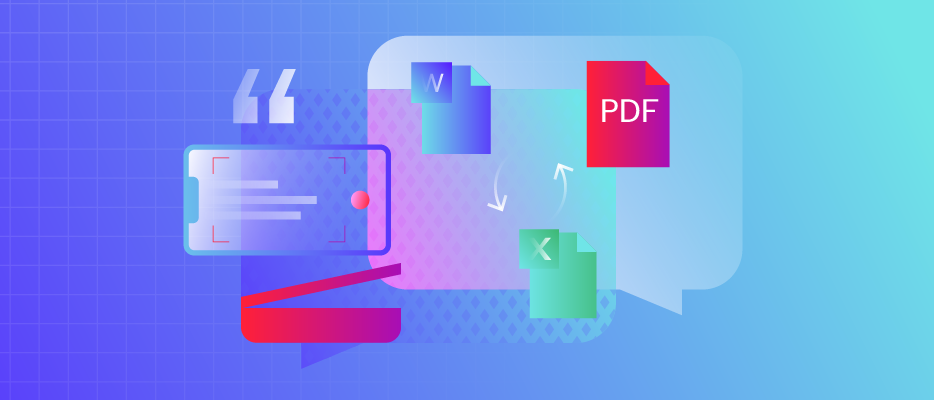 These days it's almost unimaginable not having a PDF tool for daily use. Whether we come across documents in paper or digitized formats, more often than not, some sort of manipulation is needed to make the most of information in the documents. So, without a full-fledge PDF tool, this makes document processing tasks at hand very slow and difficult.
On a day-to-day basis, thousands of invoices, contracts, eBooks, bank statements, credit card statements, insurance forms etc. are exchanged in some way or another. Millions of people choose ABBYY FineReader PDF as the best Adobe® Acrobat® alternative for their daily document and PDF tasks. Keep reading to learn about the most frequent usage scenarios and reviews from FineReader PDF customers.
Scanning paper receipts, bank statement or books
Simplify working with paper by digitizing important documents. With an extensive set of manual options within FineReader PDF's optical character recognition (OCR) Editor, you can rest assured your scanned documents will be in exceptional quality and in the order and direction you require. You can also easily split PDF pages with just one click. 
If you don't have a scanner nearby, you can use your mobile phone to scan documents using ABBYY FineReader PDF for iOS.
And when the file size of your scanned pages is too large, you can also use FineReader PDF to reduce the size of the documents.
Converting scans or PDFs to editable formats
Converting PDF to Excel is one of the most frequently used conversion scenarios.
FineReader's OCR technology is exceptionally accurate when it comes to table formats, proving its place as an industry leader in the OCR market. With best-in-class accuracy, you can copy and paste your table structure into Excel, preserving the table format.
"I use ABBYY primarily for extracting information from PDF's in table formats, and it does precisely what I need with minimal effort required."
Converting PDFs to other formats such as Word can also be done and just as easily, which is precisely why you can find shortcuts for conversion tasks directly in the start window of the interface.
"Converting Bank statements from scanned PDF to Excel"
Edit important documents whilst preserving their original layout
When it comes to legal and insurance documents (or any other highly sensitive material), with FineReader PDF you don't have to worry about the layout of your original document getting ruined during conversion. The entire document, including page numbers and footnotes, are recognized. Whether you prefer to make edits directly within FineReader PDF or continue in Word (for example), FineReader PDF converts your document quickly and with accuracy to ensure the formatting remains exactly as it should.
"It helps me a lot with the formatting when I receive documents that are non-editable and need to convert them into Word documents."
Simplify translation processes
Unlike Adobe® Acrobat®, FineReader PDF can recognize both single- and multi-language documents (written in two or more languages). This is extremely helpful for translators working with documents in several languages, allowing for a smooth way to correct, make further adjustments, or simply digitize multilingual documents.
"FineReader is an essential need for translators. All day, we scan and convert documents into Word documents and overwrite them by translating. It keeps the layout and fonts. After translation, it looks like the original."
"We frequently employ multiple languages to read a diverse range of archival documents."
Archive your documents digitally
Digitize incoming papers and sort them into folders for archiving. Create folders and sub-folders based on structure that is convenient for you to find easily.
"I scan all incoming papers to archive and search it electronically."
Reviewing big document files
Save time looking for information in large records using the search option. Leave comments and mark-ups to help structure tasks and come back to them later.
"I was able to go through hundreds of pages of medical records searching for particular words in minutes. It was wonderful."
ABBYY FineReader PDF is the solution for your everyday work with PDF documents. Try FineReader PDF today.
Ready to boost your document workflow?
Subscribe to our newsletter
Enter email and find out how to unlock efficiency with a free copy of FineReader e-book.
Your subscription was successful!