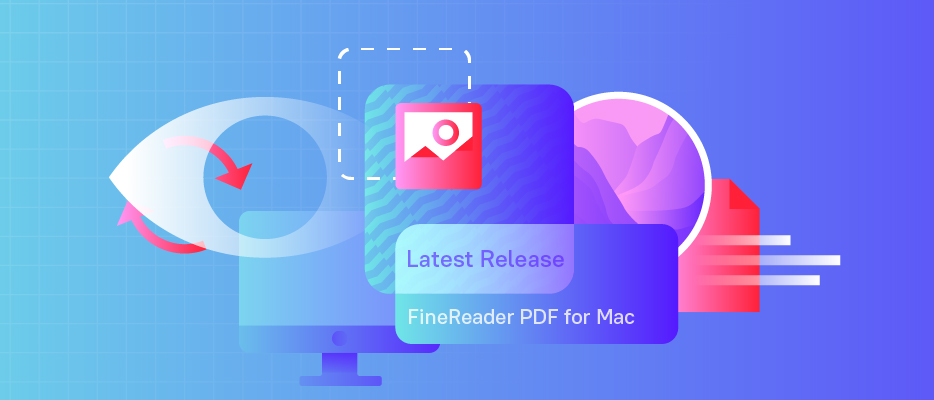 ABBYY FineReader PDF for Mac is a software that converts PDFs, document images, and scans, with expanded PDF support. It was initially released in April 2021. Recently, it has gotten a significant update, the Release 2 and 3, which further evolves the software: it provides essential tools for manually correcting scanned and photographed documents, improves stability of functioning, and ensures the support of the newest Mac operating system.
Image Editor for manual correction of document images
Obtaining high-quality, properly prepared document images facilitates accurate conversion and is essential for digitization to the formats that preserve the initial image of a document, such as searchable PDF. However, it isn't always possible to obtain high-quality document images, and the reasons for that are many. So, we often must work with what we got. That's why we added a set of tools for manual image pre-processing to FineReader PDF for Mac, which allows you to manipulate and enhance document images before converting them.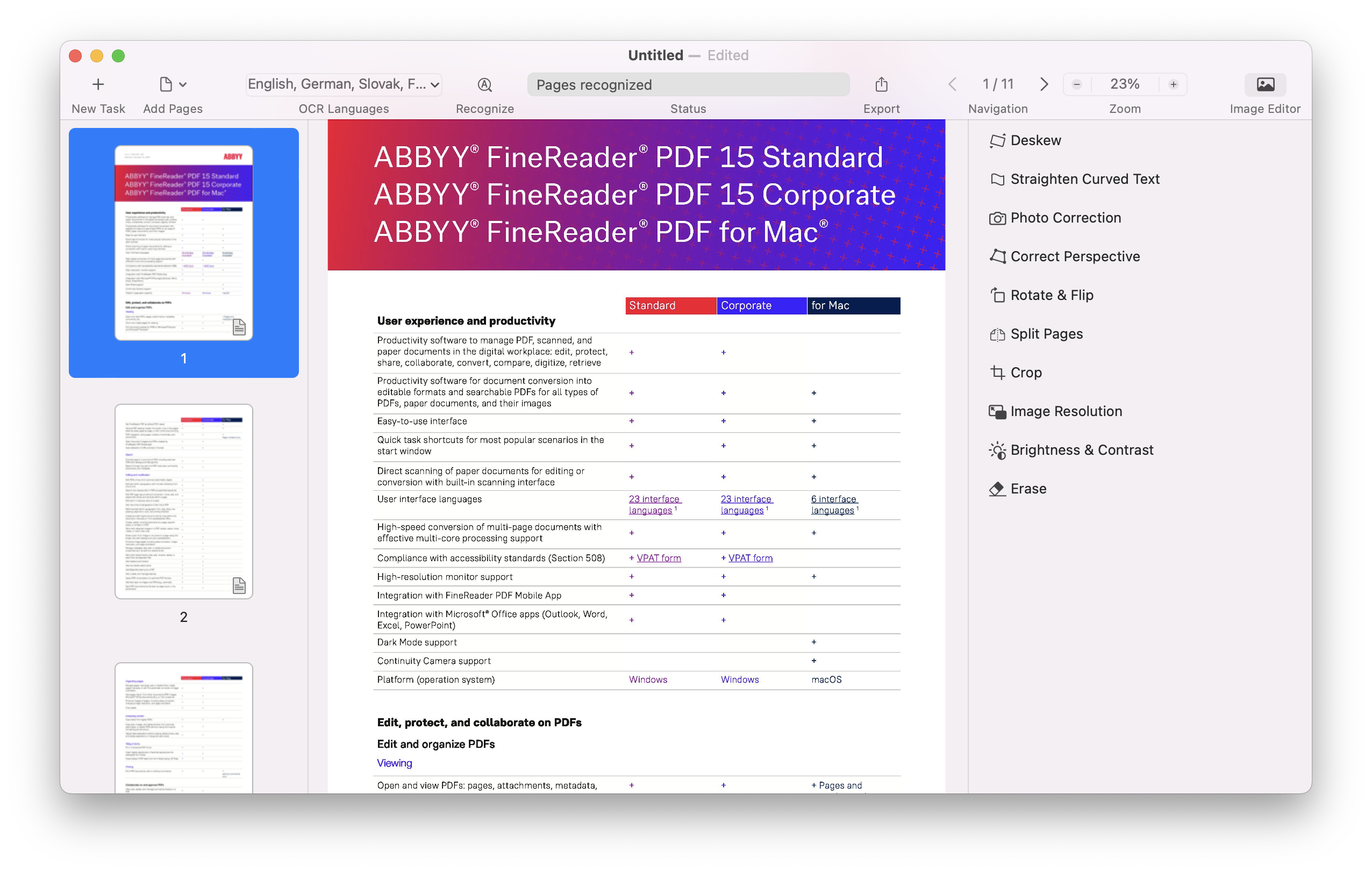 The Image Editor includes the following tools:
Deskew to correct skew on images obtained by scanner or camera;
Rotate & Flip to adjust images and get the text facing in the right direction;
Crop to remove image parts outside of document edges, remove document margins with scanning defects, or to bring the image to the desired size;
Image Resolution to correct resolution of a document image to improve quality of a converted document, to make it better suitable for printing, etc.
Brightness & Contrast tool to automatically adjust brightness and contrast, change background to white.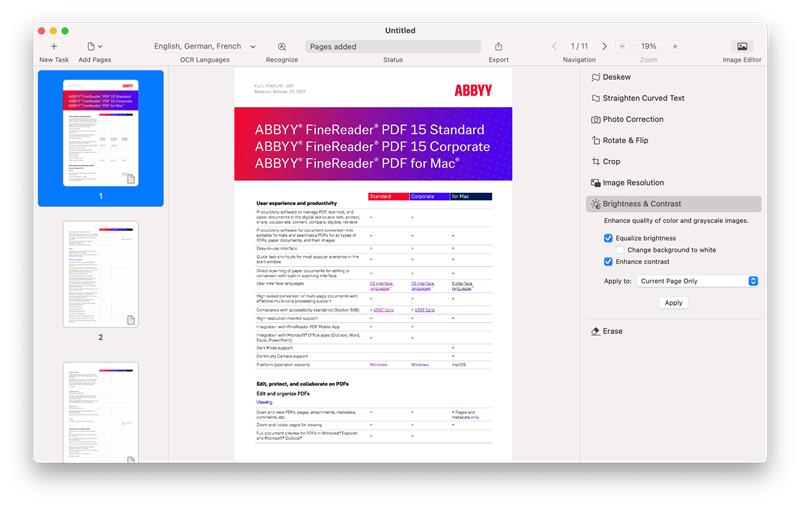 Photo Correction tool to remove motion blur and ISO noise from an image.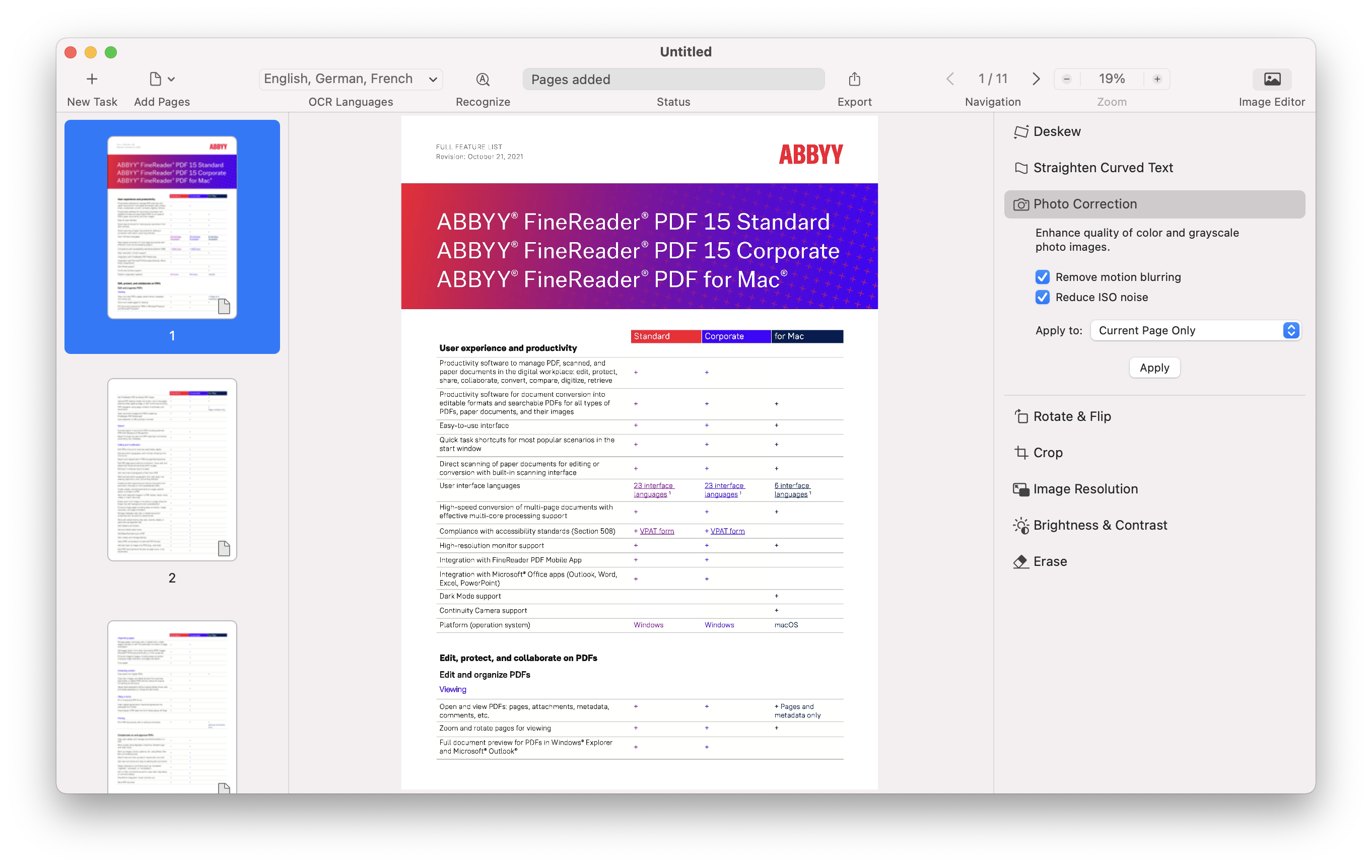 Eraser tool to remove selected fragments from a page image with auto-color, apply black or white background.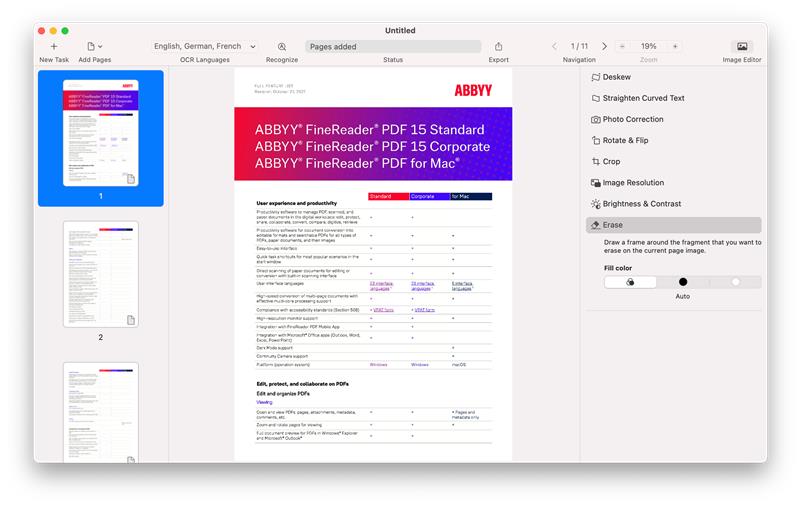 Correct Perspective tool to straighten images taken by camera from different distances and angles of view to reduce perspective distortion.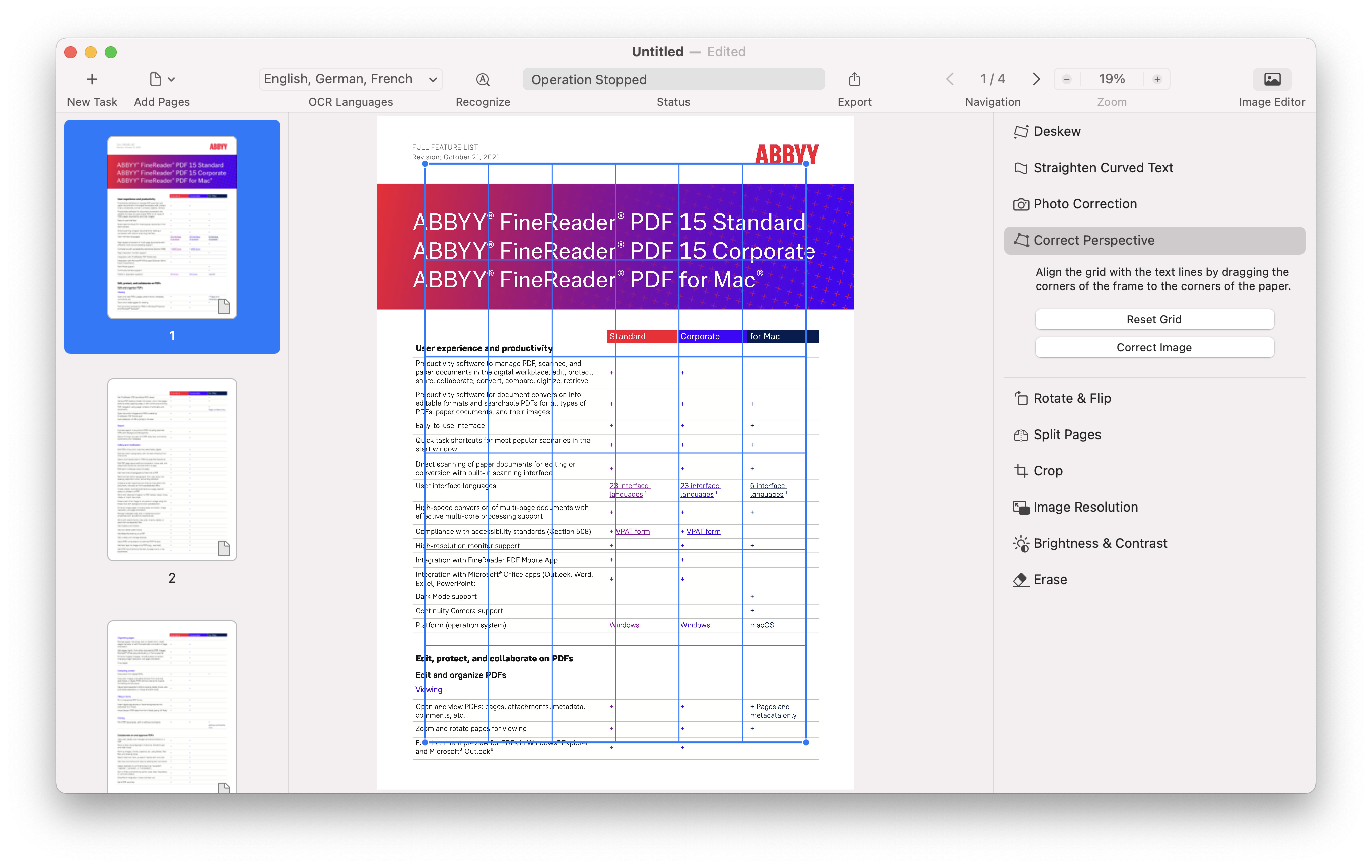 Split Pages tool allows users to split the image of double pages of books and notebooks.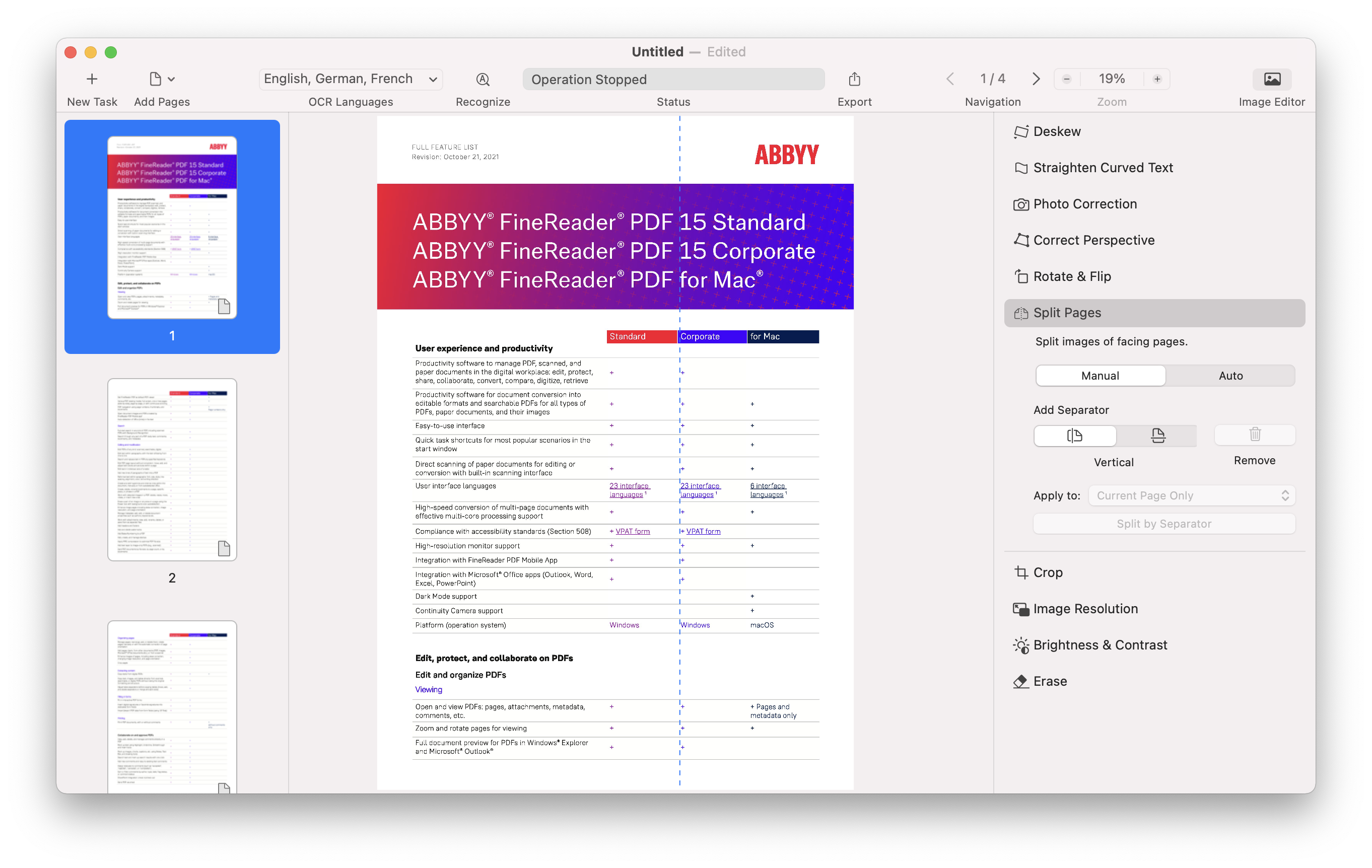 New UI language added
In Release 3, Spanish has been added to the list of User Interface (UI) languages.
User experience improvements
In order to improve (user experience) UX experience, additional controls for easier opening of password-protected PDFs in quick conversion scenarios and in OCR Editor have been implemented.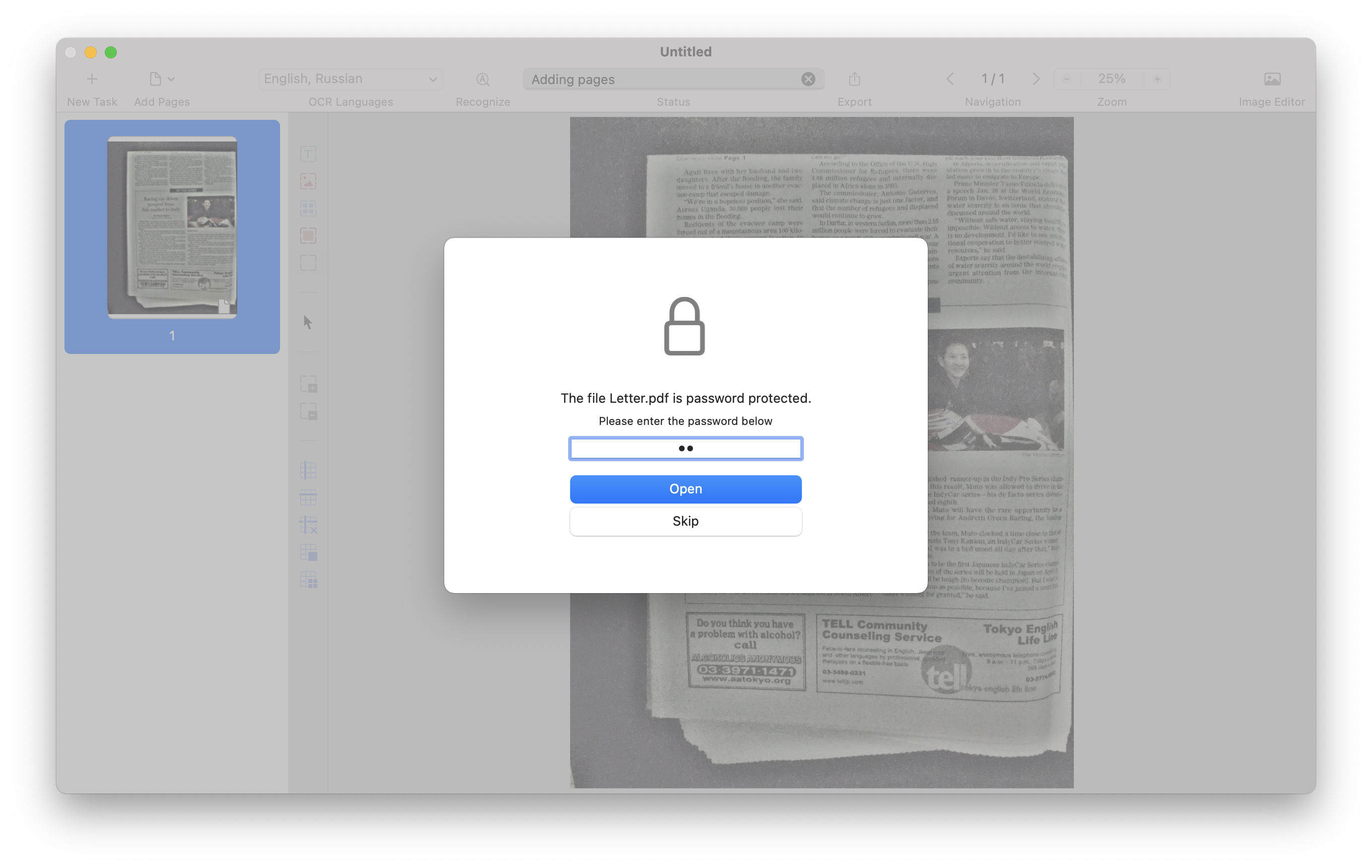 macOS Monterey support
As of Release 2, FineReader PDF for Mac supports Apple's latest operating system, macOS Monterey. Our development team has thoroughly tested FineReader PDF for Mac with the newest OS and found no issues specific to working with this version of macOS. You can check the software specifications here.
Bug fix and stability improvements
Since the initial release of FineReader PDF for Mac, we have put a lot of effort into making the all-new, designed from scratch, software product free of major bugs and issues. Before the current Release 2, there were three smaller updates to Release 1, and in each of them a lot of issues were resolved. And in Release 2 and 3, a number of bugs and program errors have been corrected, too. As a result, the latest FineReader PDF for Mac Release is faster and significantly more stable, and operating some tools—such as area selection and adjustment, and automatic scanning—was improved.
Try FineReader PDF for Mac now!
Click the "Try for free" button on the top of the page, and there you can download a fully functional 7-day trial for an individual user, or you can request an extended trial for your organization.
How to learn what is new in every FineReader PDF release
Follow our blog—subscribe by filling out the form on the right (or below if you're reading this from your mobile device). Also, at any time you can consult the FineReader PDF for Mac Release Notes, where the full list of improvements and major bug fixes for every release are documented. To identify the release version you have, use the part #, which you can find in the product by going to the "ABBYY FineReader PDF" → "About FineReader" menu.
Remember to update your FineReader PDF for Mac to the latest Release: click "ABBYY FineReader PDF" → "Check for Updates" in the main menu and follow the instructions on the webpage that opens.
Stay tuned for more news and interesting articles!
Ready to boost your document workflow?
Subscribe to our newsletter
Enter email and find out how to unlock efficiency with a free copy of FineReader e-book.
Your subscription was successful!