ABBYY FineReader PDF for Mac®
Convert PDFs, document images and scans with unmatched accuracy
macOS® 10.15 Catalina and later - System specification
Product overview
A look into ABBYY FineReader PDF for Mac®
Solve your daily tasks with powerful and easy-to-use document conversion tool.
Read reviews
Optimize Document Tasks
Manage your documents more easily and perform all document tasks quicker in digital workflows.
Make the most of PDFs
Achieve new levels of productivity when converting documents with the latest OCR technology and view and reuse content from PDFs of any kind with ease.
Digitize the Document Workflow
Provides an effective solution for all your OCR tasks no matter the complexity: from quick shortcuts to complex tasks with advanced settings.
Award-Winning PDF Solution

Capterra Top 20
Based on user reviews, FineReader PDF was awarded "Best Value" and "Best Ease of Use" badges within the Document Management Software category.
Read more ›
GetApp
ABBYY FineReader PDF was rated as the #1 PDF Software product in GetApp's 2021 Category Leaders ranking, based on user ratings and reviews.
Read more ›
G2
FineReader PDF was recognized as a top-rated document management system, according to user reviews and ratings, with a Leader Award in Spring 2021.
Read more ›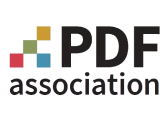 PDF Association
Being part of the PDF Association, ABBYY aspires to be at the forefront of trends and technology that shape the future development of the PDF market with FineReader PDF.
Read more ›
What Our Customers Say
Millions of customers worldwide appreciate and rely on ABBYY FineReader PDF for Mac® to efficiently accomplish document tasks.
"Easiest GUI of the PDF programs I have."
A learning curve like most software. Of the 4 PDF programs I use this one is the easiest to use. I like to be able to adjust the brightness/contrast on some scans, and this one has the easiest to use adjuster. By being an App store item, I can use it on my other Macs, without having to buy a separate license for each Mac. Big money saver.

Lars Unplugged
"Best you can buy"
The Program works just great as i use it while working for my youth group putting together records of classes they have completed. Works just great. 5 stars isnt enough!

ASM-CEO Don
"So much value..."
I've tested this against Acrobat Pro and another major OCR service. Abbyy's results are more accurate. If you're looking for quality but affordable OCR look no further!

nytimesloverinHongKong
"FineReader 2nd round- quite Good"
I've been using Fine Reader for some six years and have used it to scan and transcribe nearly 16,000 documents, dating from 1927 to 1980, that had been originally scanned as jpg files.

Meeser3