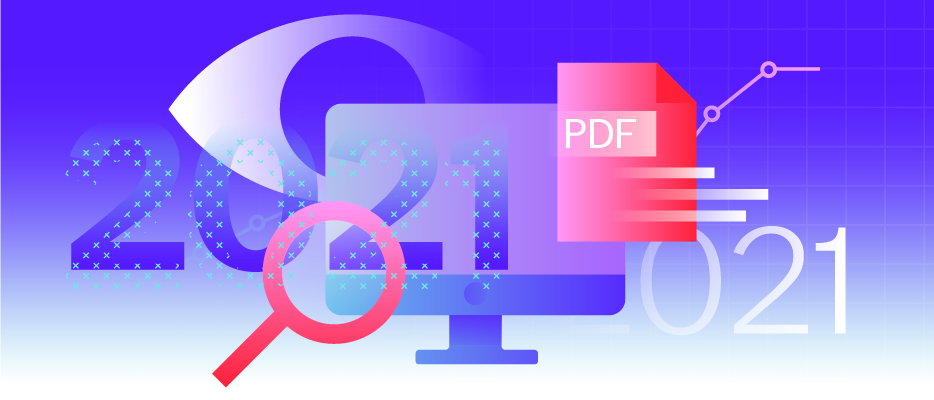 While we look forward to the end of 2021, it also seems fitting to reflect on some memorable moments over the past year, including the most important PDF-related events, trends, notable statistics, and useful feature updates to ABBYY FineReader PDF.
Organizations and employees have observed several COVID-fueled challenges over the past year. Many organizations were forced to embrace digital transformation at accelerated and unprecedented levels. There has been a shift in how technology is perceived: "People are now hacking technology to help them with their displaced lives, rather than adapting their lives around the latest technological advances." i
Speed and agility have become the defining criteria for business success in 2021. Being able to personalize customer experience and respond in a prompt and efficient manner is what differentiates top performers from the competition.
One area that has seen tremendous growth is digitization, meaning everything from online customer service to remote working to supply chain reinvention to the use of artificial intelligence (AI) and machine learning to improve operations. Healthcare, too, has changed substantially, with telehealth and biopharma coming into their own.
Businesses adapting to the new rules of a pandemic-stricken world with such automation and digitization are enabled to do so without losing too much momentum—thanks to the accompanying efficiency and productivity benefits, which have proven to be more relevant than ever before. A McKinsey survey published in October 2020 found that companies are three times likelier than they were before the crisis to conduct at least 80 percent of their customer interactions digitally.ii
As a downside, organizations that did not fully embrace automation and digitization are facing various difficulties including dealing with information chaos, where the volumes and varieties of information are growing ever so quickly. As reported by AIIM, the two most important information challenges remain "digitizing, automating, and integrating processes" (25 percent say it's the top challenge), followed closely by "managing information throughout its lifecycle" (24 percent). With the pressures growing for integrated information management strategies, where information plays an essential role, it's high time for organizations to rethink their outdated manual approaches.iii
The adoption of a remote workforce in many organizations has been met with mixed feelings among employees. While some employees can't wait to get back to the office, others don't want to return to a daily commute. According to the majority of companies surveyed, the preference is a hybrid approach that combines remote working with a centralized office.iv According to a Gartner survey of chief financial officers (CFOs) and finance leaders, 74 percent of respondents said they would transition at least five percent of their previously on-site based workforce to permanent remote positions post-COVID-19.v
Recap of the latest features and achievements over the past year
To stay informed with tips, trends, and use cases for higher productivity, subscribe to the FineReader PDF Blog by filling out the form on the right (or below if you're reading this on your mobile device). All new blog subscribers get a free eBook with six tips on how to unlock efficiency in your organization.
If you are already subscribed, perhaps you've seen the posts we've dedicated to the latest updates released this past year in 2021. Below is a brief overview.
ABBYY FineReader PDF 15 for Windows
Release 8: Introduction of FineReader PDF for Mobile, new redaction option using a keyword list, and improved digital signature support.
Release 9: Microsoft Office Integration support to create, convert, and compare documents directly from within Microsoft Office apps (Windows, Excel, PowerPoint).
ABBYY FineReader PDF for Mac
Release 2: Monterey support and new Image Editor tools added.
Learn about FineReader PDF solutions across multiple platforms
For Windows: Powerful PDF solution powered by the latest optical character recognition (OCR) technology
For Mac: Leading optical character recognition (OCR) application
For Mobile (iOS and Android): Your handy mobile scanner
Did you know?
Over 114 million installations of FineReader have been recorded since 2014
30 million PDF documents were opened (based on 9 percent from which we collect statistics)
FineReader maintains a high product rating of 4.5 (on average)
FineReader has been on the market for 28 years
ABBYY FineReader Reviews
FineReader PDF was named #1 PDF Software product in the GetApps's 2021 Category leaders according to user ratings and reviews. Thank you to our customers who shared their feedback! Below are just a few of our latest reviews, from Capterra and G2, which reassures that we are on the right track.
As good, better in some cases, as Adobe at a reasonable cost.
If my memory works, I've been using [ABBYY] for about 20 years. I have tried other similar products, but it remains my preference.
Easy, fast, good quality of OCR, light pdf size: all what you need.
Excellent at OCR'ing images - Much better than using Adobe Acrobat.
Did you take part in our survey?
In the second half of 2020, we conducted a global survey of over 22,000 ABBYY FineReader PDF users. We wanted to better understand the most popular features, usage scenarios, important purchase criteria, and where we have room for improvement. Here are some insights we found.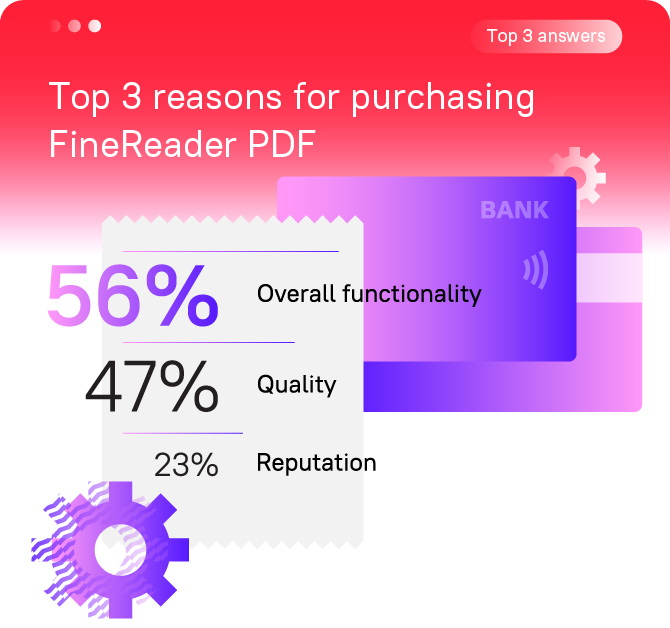 We asked you to let us know the top reasons for purchasing FineReader PDF. These are the top three answers: overall functionality (56 percent), quality (47 percent), and reputation (23 percent). 
We asked you to let us know which features you find most valuable. These are the top four answers: digitize OCR documents (74 percent), PDF conversion and creation (74 percent), PDF editing (50 percent), and PDF manipulation (41 percent).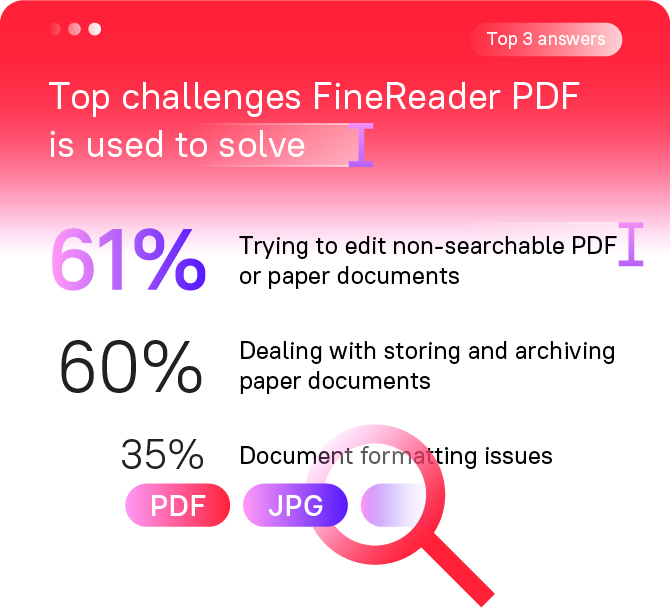 We asked you to let us know what challenges you solve with FineReader PDF. These are the top three answers: trying to edit non-searchable PDF or paper documents (61 percent), dealing with storing and archiving paper documents (60 percent), and document formatting issues (35 percent).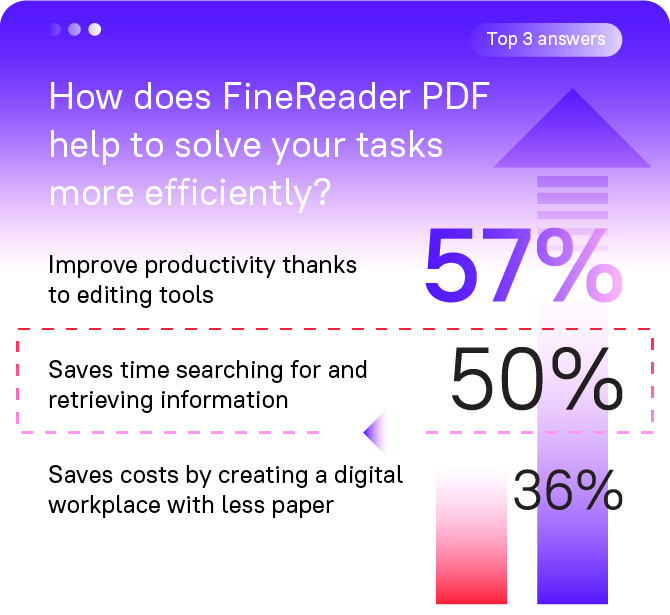 We asked you to let us know how does FineReader help you solve your tasks more efficiently. The top three answers: improve productivity thanks to editing tools (57 percent), saves time searching for and retrieving information (50 percent), saves costs by creating a digital workplace with less paper (36 percent).
From our team to yours, we wish you a successful and productive 2022
Stay healthy, keep thinking positive and as always, stay tuned for more news and interesting articles in the new year!
---
Sources
i. Fjord Trends 2021 | Accenture, 2021
ii. "The next normal arrives: Trends that will define 2021-and beyond" by Kevin Sneader and Shubham Singhai | McKinsey, 2021
iii. State of the Intelligent Information Management Industry | AIIM, 2021
iv. 2021 Digital Trends | Adobe, 2021
v. Reimagining Digital Transformation in 2021 and Beyond | ABBYY, 2021
Ready to boost your document workflow?
Subscribe to our newsletter
Enter email and find out how to unlock efficiency with a free copy of FineReader e-book.
Your subscription was successful!