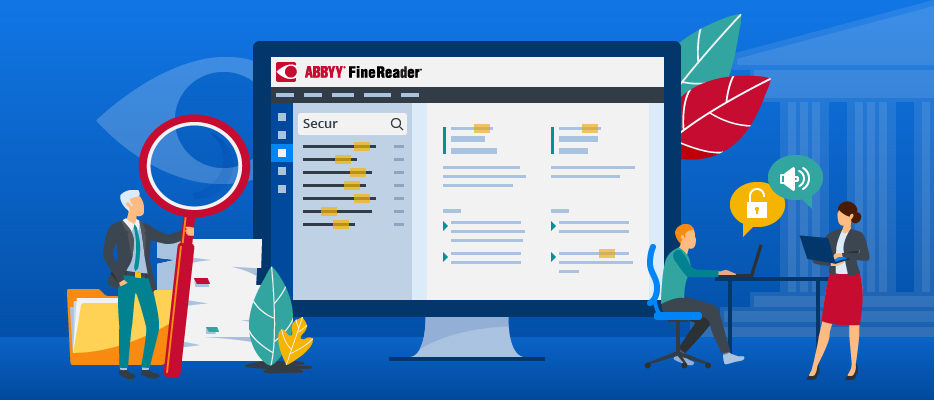 Paper has to be searched manually, but digital documents are instantly searchable, right? Unfortunately, this is not always the case. Between 25 and 33 percent of the PDF documents out there contain no searchable information at all. For instance, when a scan is wrapped into a PDF document, you have an image, which is not accessible to text tools.
However, the availability of recognized text information is not only crucial for searching or copying text. It is also essential to the accessibility of documents for assistive technologies such as screen readers for the blind, which becomes a requirement in such domains as governmental and public services, education, and more.
The solution to these problems is Optical Character Recognition. OCR converts a visible image into information coded as text (more about OCR). The good thing about this technology in ABBYY FineReader is that it works in the background and is therefore always available when needed. Therefore, if you open a document containing information that is not yet readable, FineReader does OCR in the background.
This background OCR conversion is a unique feature of FineReader, which allows you to make all kinds of PDF documents instantly accessible without changing the document itself. In case the document contains only a scan and part of it is an image, FineReader uses OCR to find all recognizable text.
And the best thing about this feature is that you won't even notice what FineReader is doing until you search the document and find all occurrences of your search term, which has not been possible in other PDF tools. The PDF simply works as you expect it to and unveils its content to you. You can only see the difference when you try the same thing in another PDF tool.
See for yourself – watch our video:
Ready to boost your document workflow?
Subscribe to our newsletter
Enter email and find out how to unlock efficiency with a free copy of FineReader e-book.
Your subscription was successful!