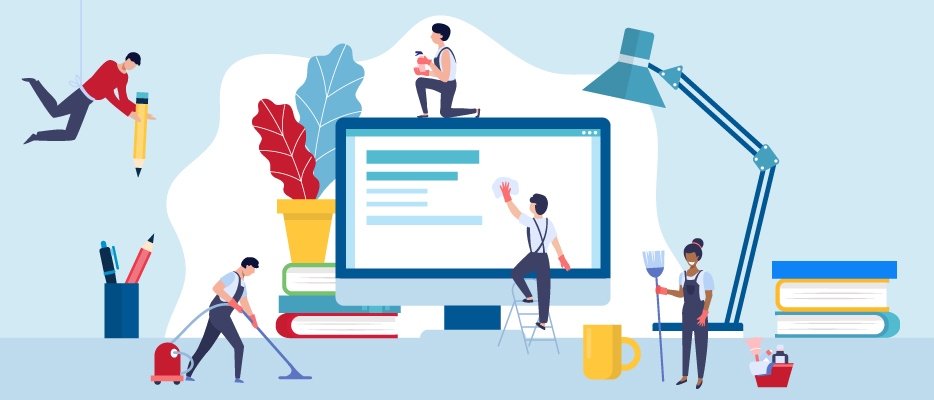 Every company knows that keeping a clean work area can boost employees' productivity and cultivate the right culture. Digital workplaces are no exception. As a core part of Digital Transformation (~ $2 Trillion in 2020), this market will receive even more attention from organizations during the next years: "The Digital Workplace Market is Expected to Grow from USD 13.4 Billion in 2018 to USD 35.7 Billion by 2023, at a CAGR of 21.7%", Research and Markets says. Simply put, the digital workplace is a wide range of devices, software, platforms, or solutions that employees use to perform their day-to-day tasks. And a crucial part of the digital workplace is a document management system (DMS), especially for small and medium sized businesses. DMS is not only a good base for starting any Digital Transformation (DX) initiatives, but also it can address the most critical DX challenges.
In this article, we'll touch on one of the most popular solutions for document management – Microsoft SharePoint, which is used by several hundred thousand organizations globally, including 78% of Fortune 500 companies, according to Microsoft. The solution is businesses' number one choice for good reason: it's rich in benefits, including those facilitating the digital journey. SharePoint has a consistent and familiar user experience; it simplifies access to critical and work-related business data; helps share and re-use information; improves document workflows, and much more.
Is everything so perfect then? Nearly. Using SharePoint as a DMS for the short-term probably doesn't cause big issues, but after years of active usage, SharePoint usually turns into a mess – at which point the creation of a good, transparent knowledge base is out of the question. Organizations need to have a complementary solution, which can create and keep a folder structure, as well as improve content standardization and searchability. Such software improves productivity of knowledge workers, enable archiving, backfile conversion, document migration, compliance, and analytics scenarios. The solution should be easily connected with on-premise or online versions of SharePoint, Microsoft Exchange and Outlook.
For this task, ABBYY offers FineReader Server for SharePoint , which is designed for high-volume OCR (Optical Character Recognition) and document conversion. The solution automatically converts large collections of documents into searchable and accessible digital repositories. This server-based OCR and PDF conversion software converts scanned and electronic documents into PDF, PDF/A, Microsoft Word, or other formats for search, long-term retention, collaboration, or additional processing – quickly, accurately, and automatically. There are 2 major ways that ABBYY FineReader Server can improve SharePoint experience, keeping the digital workplace clean and tidy:
Findability – making content, including images and scanned documents, searchable and accessible.
Standardization:

Consistent document format across departments and organizations;
Appropriate file naming and folder structure.
Companies use ABBYY FineReader Server for SharePoint in the following three major scenarios:
Backfile conversion

Automated conversion of high-volume batch of files and incoming documents into searchable and standardized PDF or other formats.

Digital Document Archiving

Facilitate compliance with industry regulations by converting large volumes of paper and digital documents into accessible and searchable PDF/A.

Document migration

Migrate documents from one or several old DMS to SharePoint Server/Online;
Don't just move: standardize, make content searchable, skip duplicates.
This solution is relevant for organizations from different industries, especially those heavily loaded by paper and electronic documents. For instance, please look here for a case study about how ABBYY helps unlock the potential of SharePoint for one UK National Park Authority. Here is a quote from their ICT (Information and Communications Technology) manager: "Product took just one day to install, is a relatively 'user-friendly' system, and the IT team have been happy to look at existing configurations, and then replicate them to create new workflows. We now have an easy-to-use and cost-effective way to archive our documents and make them easy to search out in the future." ABBYY FineReader Server is a powerful server-based solution, but at the same time is easy to deploy and use. For example, in this short three-minute video, you can see how simply and quickly it is to connect to SharePoint Online and make its libraries fully searchable:
Ready to boost your document workflow?
Subscribe to our newsletter
Enter email and find out how to unlock efficiency with a free copy of FineReader e-book.
Your subscription was successful!