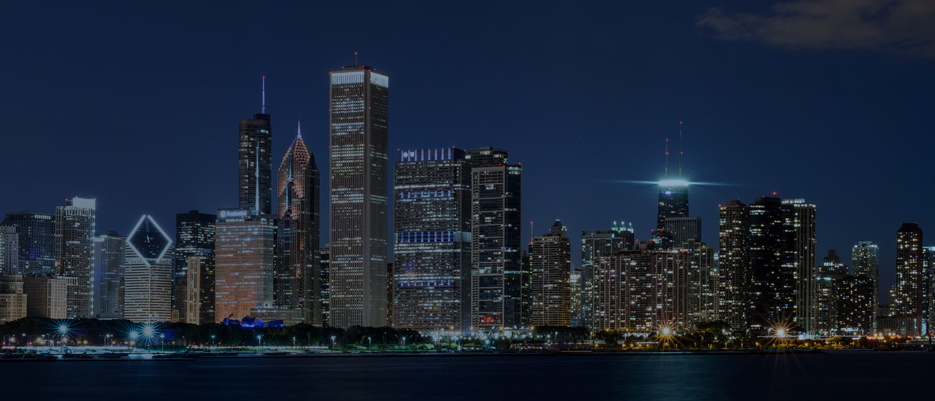 AI, automation, human skills, client experience, recession threats and challenges, cybersecurity, lawyer well-being, document productivity for legal firms — the topics at ABA TECHSHOW EXPO and Conference 2020, where lawyers and legal professionals meet technologies, were diverse. Tech companies showcased their latest products and services at the EXPO, and leading practicing lawyers shared their experience and best practices in leveraging the power of cutting-edge tech during numerous sessions of the Conference. A lively atmosphere of the event, filled with productive discussions and anticipation of changes in the ways legal professionals and firms work, was excellent for ABBYY to present its latest PDF and document productivity tools.
A Major Shift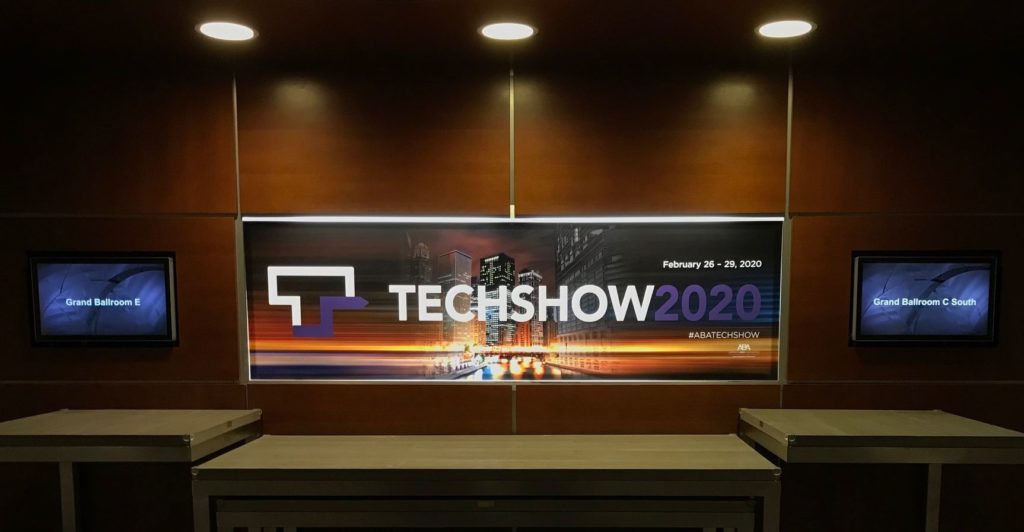 In a cosy hallway of Hyatt Regency Chicago
ABA TECHSHOW traditionally takes place at the end of February, taking up most of the expo and conference facilities of Hyatt Regency Chicago in the heart of the city's downtown, which was filled with visitors not only from all over the United States, but also Canada and even Europe.
The legal industry is undergoing a major shift. After years of gradual and cautious adoption of tech tools while still practicing traditional approaches, the power and development of technologies are now going to change the way legal industry works, with new capabilities available and new players entering the market.
ABBYY Digital Transformation Tools at the ABA TECHSHOW 2020
Digital transformation is one of the prerequisites for facing, adapting to, and embracing these changes. Going paperless is a significant part of digital transformation, but it doesn't mean paper documents don't exist anymore. We still work with documents of mixed origin and on multiple carriers, so legal firms need to work on minimizing paper usage when processing and producing documents and effectively incorporating documents of different origins into their digital workflows.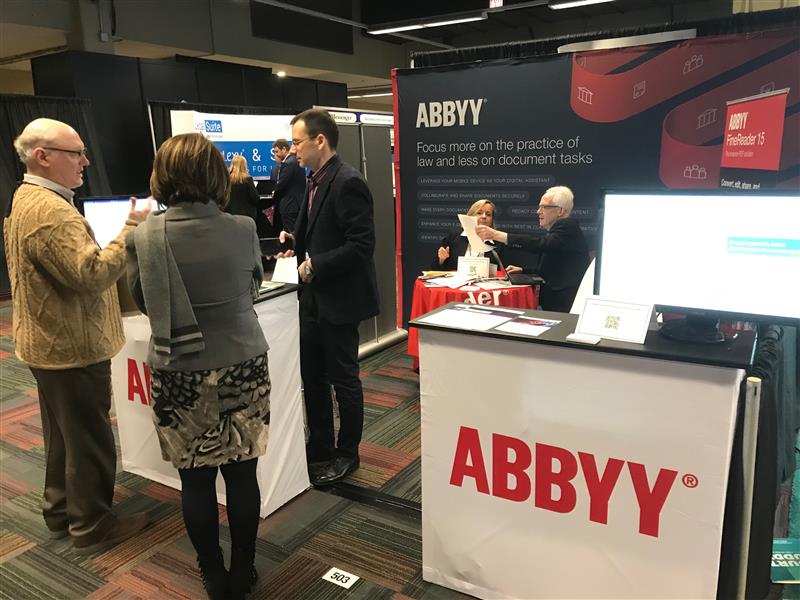 The visitors were curious to know how ABBYY solutions can help with document productivity
At the booth, we showcased our latest PDF and document productivity tools that make the digital transformation journey for legal professionals easy and effective using personal computers, smartphones, and servers – while helping them ride the wave of the latest changes. ABBYY offers the tools to help legal professionals embark on this digital transformation journey:
ABBYY FineReader 15 is the latest version of our AI-based PDF document productivity tool for Windows, which offers legal professionals all necessary features for working with PDF, scanned and paper documents, great ABBYY OCR for accurate conversion into editable and searchable formats, PDF creation capabilities, and more. It is a real alternative to Adobe® Acrobat® for those who are looking for one.

Seeing the program in action, visitors especially noted its cross-format document comparison capabilities. The program finds exact differences between two copies of a document — for example, a scan and a Word file — in just seconds, and it can then save them conveniently as a Microsoft Word file with edits in Track Changes mode. Another capability of FineReader that attracted special attention was PDF editing, which allows users to make changes directly in the text and even the layout of both digital and scanned PDFs, without conversion into formats such as Microsoft Word.

Our mobile apps also got a lot of attention. Capturing documents and business cards on the go has always been a challenging task due to lack of time and equipment – but not anymore with ABBYY FineScanner AI and ABBYY Business Card Reader. These handy apps don't just grab the document images with the smartphone camera — they digitize all the information from those documents and business cards into searchable PDFs, editable formats, and actionalble contacts straight away. This provides on-the-fly access to the contacts and content of the documents both on your smartphone and from other devices, such as a laptop, an office computer, or a tablet, via integration with cloud storages.
For automation of archive digitization and setting up clear, uniform, and effective daily digitization routines across the whole office, ABBYY FineReader Server offers a powerful, scalable, and flexible server-based document conversion solution that can be also integrated with DMS, practice management, and other systems via an API.
Tips for First-Time ABA TECHSHOW Participants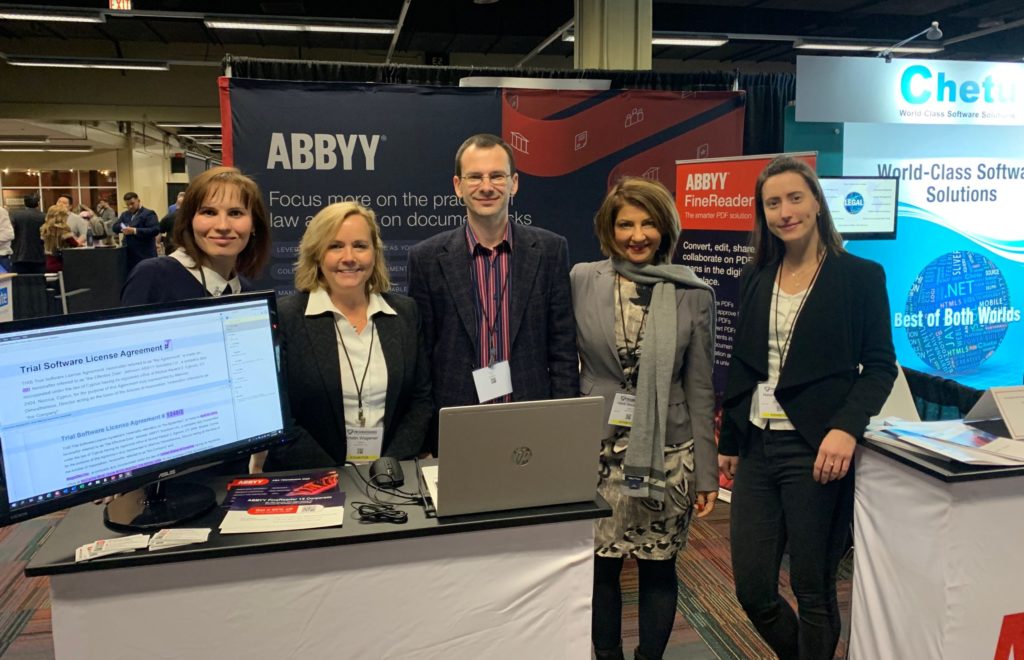 ABBYY Team is always glad to be a part of ABA TECHSHOW
We have been to ABA TECHSHOW as exhibitors three times, and we consider ourselves "old stagers" there. If you are considering taking part in a future event as a vendor, these tips may be useful for you:
The event is usually fully booked, so book a booth as early as possible to have a better choice — the closer to the center of the EXPO hall, the better. Another great spot is right in front of the main entrance to the hall.
Equip your booth with some additional lighting to increase its visibility.
If you take the most common 10-by-10-foot booth, keep the layout simple and resist temptation to include too much exhibition equipment.
You don't need much in terms of printed materials. Good demos, videos, and/or physical samples (if applicable) work much better.
In addition to the booth, consider booking a speaking slot for vendors on a track such as Launch-and-Learn or Vendor Track. It is at an extra cost, but it improves your visibility on the event and increases the number of visitors stopping by your booth.
Check out extra morning and evening events in addition to the main program — you may find good opportunities for networking.
Make use of the special rate offer for participants and stay in the same hotel where the event is held. The event is short, and you will hardly find significantly cheaper accommodation in reasonable proximity to the event.
There are a lot of thematic tracks held concurrently at the Conference, and you will probably find some of the sessions of high interest for you. Also, it is interesting to look around the exhibition itself. To avoid missing these opportunities while not to leaving your booth unattended, consider adding to your team more people than you need just to work on the booth.
Ready to boost your document workflow?
Subscribe to our newsletter
Enter email and find out how to unlock efficiency with a free copy of FineReader e-book.
Your subscription was successful!