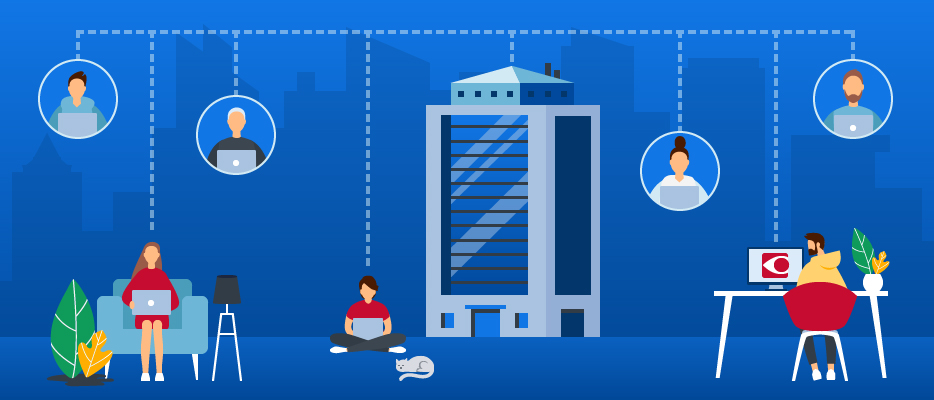 It's a tough time. Companies and organizations close the offices; office processes are disrupted. Restoring them requires urgent measures. How to enable the employees to work from home with the same efficiency as before? How to provide them with necessary tools to process, collaborate, and share documents effectively?
ABBYY FineReader 15 can help to do that quickly and effectively. Even if you have been using it in your office already, you can find here useful hints on re-arranging existing software configuration and licenses.
Equip your people with effective tools to work from home
Help your employees do their document-related work effectively. When working remotely, they especially need:
Having everything digital

All the papers are left in the office. FineReader allows to digitize office documents to make them easily accessible over the Web, effectively searchable and reusable.
If the amount of documents to be digitized isn't big, check HotFolder capability in FineReader 15 Corporate. With Volume Licensing you can have it for multiple computers to process necessary documents faster.
If your organization's document storages are big, look at FineReader Server, a solution for high-volume automated digitization. For example, it can quickly crawl through your SharePoint storage for images of documents and non-searchable PDFs and convert them into searchable PDFs.

Effective collaboration tools
Watch more Tutorial videos on our web-site
Secure sharing

Protecting documents sent back and forth over the Internet from unauthorized access is important. Encryption with password protection is simple and reliable measure you can implement with FineReader 15 for your PDFs. Lock your PDFs either in full, by not allowing to open them without password, or just for certain operations, such as copying, editing, printing, and so on.
With FineReader 15, you can reliably redact confidential information in PDF documents: in the text, bookmarks, metadata, links, comments and annotations.
Going virtual? Get FineReader 15 with Remote User licenses
If your organization is building or expanding its infrastructure to support remote work in a fully virtualized environment, you can use FineReader 15 with Remote User licenses. These are specially designed for virtualization solutions such as Citrix and Microsoft Windows Server. Learn more about FineReader 15 license types and their applicability for different variants of deployment in our Licensing Overview.
Been using FineReader in LAN with concurrent licenses? Try switching to remote desktop
If your employees have been sharing FineReader concurrent licenses via local area network in the office, you can move your FineReader set up to a remote desktop server. Concurrent licenses enable FineReader to be shared between users via remote desktop access (and with other supported virtualization solutions) too. Consult with the Administrator's Guide for deployment instructions.
Per Seat licenses for standalone installations
If your organization is using FineReader with Per Seat licenses, and your employees can take their work computers home – you are good. FineReader will continue working even though the workstations are not in the LAN anymore.
If your employees have to switch to their own home computers, you can unbind the licenses from their work computers (see FineReader License Manager help on how to do that) and let them install FineReader using the same licenses on their home computers in standalone mode. (Under normal circumstances, it's not allowed by EULA – but while we are all suffering from these exceptional circumstances, we as the vendor temporarily waive this restriction.)
Ready to boost your document workflow?
Subscribe to our newsletter
Enter email and find out how to unlock efficiency with a free copy of FineReader e-book.
Your subscription was successful!